Born in 1966, into its eleventh generation now, produced in 15-odd countries, the best-selling nameplate in history with over 40 million units sold in about 150 countries till date—this car is a legend. And India is no exception. Launched in the country in 2003, the Toyota Corolla, in a way, not only created the executive segment but also led it from the front. Of course, until the new Elantra and the new Octavia started giving it stiff competition. Suddenly, in a market full of such smart looking cars, the traditional design lines of the Corolla started looking dated. But, with the arrival of the all-new Corolla, things might just change for the better for the world's favourite car.

Last week, we were invited by Toyota for a special pre-launch drive of the new Corolla, from Bangalore to nearby Nandi Hills, and here's our impression of the car.

Exterior: Sporty

The new Corolla symbolises Toyota's modern and youthful design language. Easily the most aggressive looking Corolla of all times, the front attracts you with a bold 'T' design theme—the way the swept back headlights merge into the front grille is sexy, the way the car carries chrome on the grille is sexier. The bonnet is huge and the sloping angle of the windscreen results in better aerodynamics. At the rear, the Corolla is Lexus-esque—the extended tail-lamps look very premium. The new car is 80 mm longer and 15 mm wider than the outgoing model. Kudos to Toyota for designing such a premium and sporty looking sedan.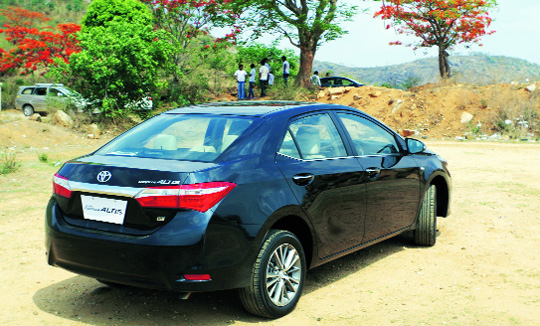 Interior: Simplified
Open the door and the car welcomes you with a spacious cabin and a neatly laid out dashboard. What attracts attention is a carbon-fibre lookalike plastic panel around the infotainment touchscreen, but the panel has a love-me-or-hate-me look; some may even find it gaudy. The infotainment screen makes the dashboard look neat as there are not a plethora of buttons to confuse you. The driver's seat is powered and thus one can easily get into a preferable driving position. The top-end variant we drove gets Bluetooth connectivity, illuminated cup holders, parking camera and rain sensing wipers. The interiors are typically Toyota—functional but not overboard. But though the overall plastic quality is good, it still doesn't match that of the Elantra or the Octavia.
The highlight of