The Reserve Bank of India (RBI) on Tuesday chose to keep the repo rate unchanged at 8%, merely trimming the statutory liquidity ratio (SLR) by 50 basis points to 22.5%, a move that will free up roughly Rs 39,000 crore for banks to lend to customers. The move was not unexpected since consumer inflation remains elevated.
Bankers, not surprisingly, ruled out any changes in loan rates immediately since it would crimp their margins at a time when they're compelled to leave deposit rates at current levels. SS Mundra, chairman and managing director, Bank of Baroda, told FE there was no rationale to cut loan rates right now.
However, most banks concede they do trim the spreads for select customers while leaving the base rate intact with a view to attracting good borrowers. Given the system-level SLR is estimated at 28-29%, the cut in SLR doesn't help banks much. However, should demand for credit, currently at sub-14%, pick up in the later half of the year, the funds would come in handy.
Both bond and stock markets rallied on the perception the RBI sounded a tad more doveish than it has in the recent past. The central bank held out a ray of hope for borrowers saying it might be possible to lower policy rates in the event inflation eased faster than expected.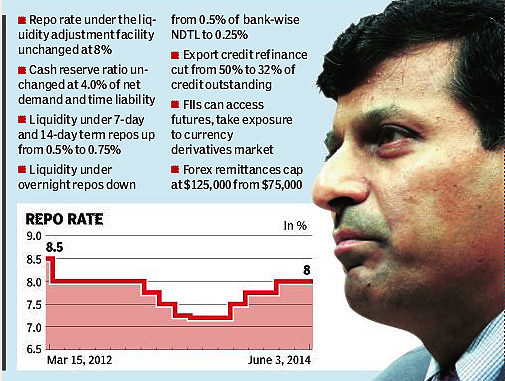 "If disinflation adjusted for base effects is faster than currently anticipated, it will provide headroom for an easing of the policy stance," the RBI said in a statement. The central bank expects consumer to inflation to fall to 8% by January 2015 and 6% by January 2016 from 8.6% currently.
It believes the economy will grow between 5% and 6% in FY15.
Frederic Neumann, co-head of Asian economics research, HSBC, observed that the RBI remaining on hold so soon after the election wasn't really a surprise. "But its doveish tone was. Officials clearly feel quite relaxed about inflation. They may also count on a fairly conservative Budget in the coming weeks, with the BJP sticking to its promise of continued fiscal consolidation," he wrote in a report.
The central bank also signalled confidence in the Indian currency allowing larger amounts of $125,000 to be remitted under the Liberalised Remittance Scheme (LRS), without any end-use restrictions. The rupee has run up by almost 19% since its lifetime lows of 68.85 to the dollar in last