Given that the previous nine rounds of the NELP auction over the last 15 years fared far from creditably in raising India's hydrocarbon output, the next round would rather wait until the problems that plagued the earlier editions are fixed.
According to sources, petroleum minister Dharmendra Pradhan has decided not to go ahead with the planned 10th edition of the auction under the new exploration and licensing policy (NELP) till a review of the policy in the light of past experiences is completed. The minister, sources said, ordered a listing of the roadblocks for each of the 166 active production sharing contracts (PSCs) signed under various NELP rounds.
Pertinently, of all these contracts, only one — KG-D6 operated by Reliance Industries (RIL) and its foreign partners BP and Niko Resources — is producing oil and gas now. It is another matter that the output at the KG-D6 block that went into production in September 2008, has, after reaching a peak of 68 mmscmd in March 2010, fallen steeply to around 12 mmscmd now. The government and the operators are engaged in arbitration over alleged under-production by the latter.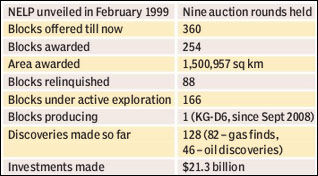 "What is the use of auctioning new blocks when the 166 blocks (for which PSCs are in place) are not able to produce oil or gas? In two months, the ministry would complete a review and fix the roadblocks. Boosting domestic output is the priority before the ministry now," a top oil ministry official told FE. "The government needs to decide on a fiscal regime — cost recovery or revenue sharing — before signing any new contracts," the official added.

Under the NELP regime, 360 exploration blocks have been offered so far and 254 blocks have been awarded. At present, 166 of the awarded blocks are active, while 88 have been relinquished. So far, 128 hydrocarbon discoveries have been made in 42 NELP blocks. Out of these, 82 are gas discoveries and 46 are oil discoveries.

"India has to compete with other jurisdictions like East Africa, West Africa, Mexico etc to attract foreign explorers into the exploration and production sector. The plan of the new government needs to be put into place and communicated effectively to the international oil companies," said Dilip Khanna, partner (oil and gas practice) at EY.

India's domestic crude oil output dropped to 37.76 million tonnes (mt) in FY14 from 38.09 mt