The number of millionaires in the country is on a rise. The Kotak Wealth report released in July 2014 shows that the number of ultra high networth individuals (UNHIs) rose by 16 per cent from 1,00,900 in 2012-13 to 1,17,000 in 2013-14, while their net worth rose by 21 per cent from Rs 86 trillion to Rs 104 trillion in the same period. While the housing needs of such individuals will have to be catered to, a share of that seems to be coming to Noida even though it has been known more for its residential offerings to the middle class. Noida is slowly but surely rising in stature and developers are beginning to raise their stakes and building residential properties in the super luxury segment priced at over Rs 10 crore.
Over the last few months, developers in Noida have launched at least three such projects, the latest offering being the Belleville Park in Sector 25 where home buyers will have to shell out a minimum of Rs 10 crore to own a house out of the 100 odd villas that Wave Infratech plans to build on the 52-acre land.
Even 3C tied up with Four Seasons Hotels and Resorts and launched its luxury residential apartments in the price range between Rs 7 crore and Rs 14 crore.
Earlier Supertech launched its Supernova project in Sector 94 in Noida where the apartments in its tallest tower 'Spira' having 80 floors where there are 100 premium apartments priced between Rs 5 crore and Rs 7 crore.
The Brys Group too launched its 81 storeyed project Brys Buzz in Sector 150 in Noida a few months back. While the project will have a total of 291 apartments they would be priced between Rs 3.75 crore and Rs 18 crore, depending upon the size of the apartment.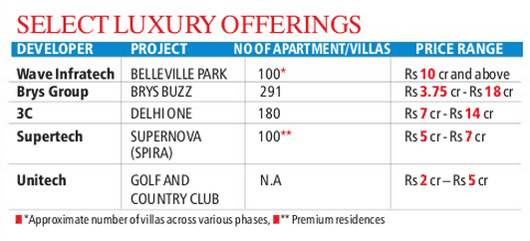 Unitech's Golf and Country Club residential project situated on Noida Expressway that was launched in 2007 priced between Rs 2 crore to 5 crore is one of the earliest projects in the segment.
These projects open up a sharp contrast to the residential offerings of Noida till date. Over the last 5-10 years, people in the National Capital Region with modest budgets were attracted towards Noida – Noida Extension and Noida Expressway — because of its affordability and presence of adequate infrastructure but that seems to be changing now.
In aggregate these