The Nokia Asha series pioneered what I like to call the smart feature phone segment, where the devices are sort of smarter and better than feature phones, but not as spec heavy as smartphones. The Nokia Asha 501 took the concept to a new level as it ushered in a unique platform for these devices. The Asha 502 is a natural progression, in keeping with the ever-increasing requirements of the segments this phone is meant for.
Quick Tech Specs: 3-inch TFT touch display (240 x 320p) | Nokia Asha software platform 1.1 | 64MB RAM | microSD slot | 5MP rear camera | 1010mAh battery
Design: The Asha 502 looks exactly like its predecessor. The compact soap bar design and size continues, though the 502 seems to have laminated looks thanks to a transparent layer of plastic. Below the display is just the back key and on the sides are the volume and power keys. It is a bit difficult to open the rear panel and it would have been a great idea to keep the second SIM hot-swappable without having to pry open the rear panel. And, yes, the bright colour schemes continue in line with Nokia's new design philosophy.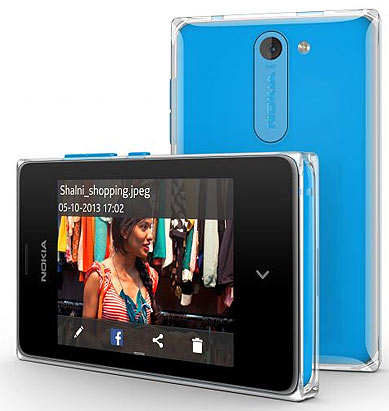 Screen: The screen is good enough for you play games, do basic browsing and enjoy the photos clicked with this phone. But this is not for those people who are used to HD screens. This is a functional touch screen and that is all it is meant to be.
Performance: The Asha 502 is meant to be a phone for the masses and hence should not be compared with smartphones. If you look at this as an option for people who are graduating from a feature phone, then the Asha 502 is a rock star. It lets you connect to the net, surf the web without incurring huge data costs, check mail, engage in IM chats and use Facebook and Twitter effectively. It does not lag at any point of time as the OS has been custom built for device with these specs. The experience is smooth and stable, but not enough to suffice those who have been exposed to high-end devices.
Memory: It won't take you long to exhaust the 64MB internal memory, so be prudent while you download apps. But a 4GB SD card should be able to take care of all other