Seeking to draw the attention of the Central and state governments to their plight, employees of handset maker Nokia India's manufacturing facility at Sriperumbudur near here today staged a one-day fast demanding job security.
More than 3,000 employees, mostly in the 20-30 age group and a majority of them women, wearing black badges, took part in the protest, spearheaded by the Nokia India Thozhilalargal Sangam (Employees Union) near the State Guest House here.
"Central and state governments should come forward and ensure that there was no job loss due to the proposed transfer of assets of Nokia to Microsoft (as per the USD 7. 2billion deal)," Union Honorary President A Soundararajan, MLA, said.
The employees are up against the company's indication of "retrenchment or closure of the plant".
Also read: Malaysia Airlines Flight MH370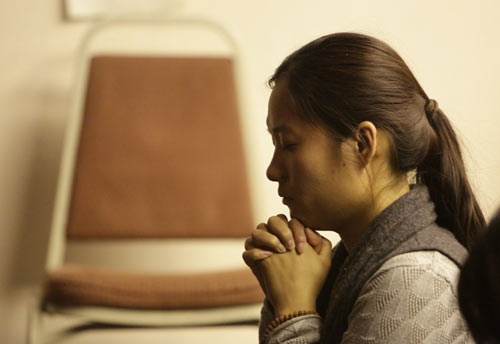 A relative of a passenger onboard Malaysia Airlines Flight MH370 prays at a praying room at Lido Hotel. Australian Prime Minister Tony Abbott said there was no time limit on the hunt for Malaysia Airlines Flight MH370, missing for more than three weeks in the Indian Ocean with 239 people on board.(Reuters)
"We do not want any job losses. We have been working at the plant since it began operations at Sriperumbudur," an employee told PTI.
Asked whether there has been decline in production of handsets at the facility, considered one of the biggest for Nokia globally, the employee who did not want to be named, said the entire "Asha" range of mobile phones had been shifted to other manufacturing plants while some machineries shipped to Vietnam and other countries.
"We are assembling the phones here. From production of 13 million handsets per month, we are now producing only 4 million units per month. Due to decline in production, the three shift operation has been cut to two shifts", the employee said.
The Union, is backed by Centre of Indian Trade Unions, and other member unions of the CITU area also supporting the employees in the hunger-strike.
The employees said they would decide on their next move this week.
Earlier, Nokia India Employees Union President M Saravana Kumar said they would meet senior Labour and Industries department officials soon seeking government's support.
The employees said the Chennai plant has about 8,500 employees out of which 40 per cent were women. Besides, 20,000 indirect employees were located in the vicinity of the plant.
On