Retrospective changes in tax laws are not really an anathema to India Inc, tax notices are. The government, which has received flak for retrospectively changing tax law to override a Supreme Court order and impose tax on MNCs, has now been asked by the auto industry to amend the Central Excise Act retrospectively. Reason — the need for relief from another apex court ruling that favoured the revenue department.
Multinational carmakers and some domestic tyre manufacturers have demanded that Section 4 of the Central Excise Act and the Central Excise Valuation Rules of 2000 be amended retrospectively so that tax notices slapped on companies asking for higher excise duty payments on a disputed valuation principle could be settled.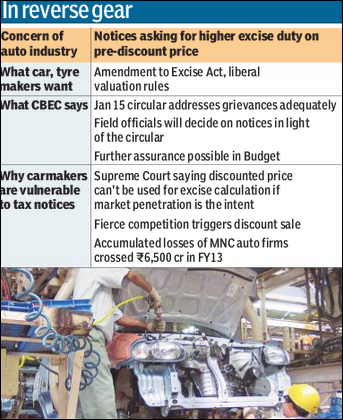 FE has learnt that fresh show-cause notices have been issued to several multinational carmakers after the Supreme Court in August 2012 ruled that Fiat India's discounted sale price could be rejected as a basis for excise valuation and that duty could be levied on production cost plus profits. The taxman's logic for making these demands is that the discounts to consumers for market penetration is in fact a 'consideration' received from them.
Two out of 10 automobile company CFOs FE spoke to confirmed that they have received Fiat-like tax notices on vehicles produced from different manufacturing plants. Two other multinational carmakers and a domestic tyre manufacturer told FE they could not confirm whether they received a tax notice as it was privileged information.
Sources from the Central Board of Excise and Customs (CBEC) said that these fresh notices were issued to companies by field officials before the government clarified in January 2014 in a circular that mere sale of goods below the manufacturing cost and profit cannot be the sole basis for rejecting the discounted sale price as the basis for duty calculation. "When field officers finally decide on the tax notices, they shall keep in mind the instructions in the circular," said a CBEC official, who asked not to be named.
Sources said an assurance or further clarification from the finance ministry is likely in the forthcoming budget.
The CFO of a leading domestic car manufacturer, which is part of a diversified conglomerate, said the Excise Act and valuation rules should be amended to clarify that duty has to be levied only on the consideration that flows from the buyer to the seller. "Market penetration