Leading commodity bourse Multi Commodity Exchange of India Ltd (MCX) today said its board will meet on April 3 to consider allotment of preferential shares, but this move was strongly opposed by its promoter FTIL which said it would take legal recourse to protect the interest of shareholders.
Financial Technologies India Ltd (FTIL), which has plunged into a crisis due to Rs 5,500-crore payment crisis at its group firm NSEL, questioned the timing of MCX's proposed plan to allot preferential shares and said the move is aimed to derail its plan to divest 24 per cent stake in MCX.
"The scheduled meeting of the Board of Directors of the Exchange to be held on April 03, 2014, may, if deemed fit, inter-alia, consider the preferential allotment of shares," the MCX said in a BSE filing.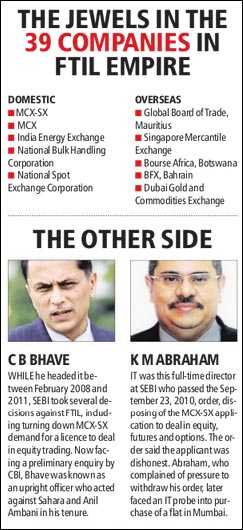 Earlier, the Board meeting was announced to consider the alteration of main objects Clause of Memorandum of Association and Articles of the Exchange.
Reacting to MCX's proposed plan to allot preferential shares, Financial Technologies said that it has not received such communication from the MCX regarding this proposal.
"Financial Technologies being a holder of 26 per cent shares in MCX has not received such communication and the Board of FTIL will take necessary legal action in the interest of its 65,000 plus shareholders," the company statement said.
Also read: Malaysia Airlines Flight MH370: 20 planes, ships resume hunt west of Perth after more debris spotted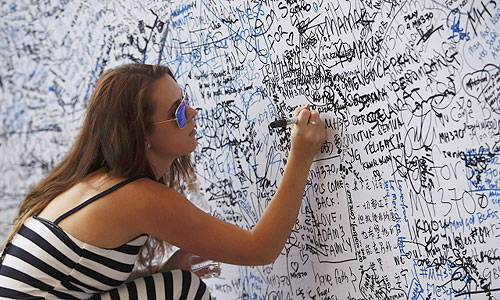 A woman writes on a wall dedicated to the passengers of the missing Malaysia Airlines flight MH370 during the the Malaysian F1 Grand Prix at Sepang outside Kuala Lumpur. (Reuters)
Financial Technologies also questioned the timing of the MCX's proposed plan to allot preferential shares saying that the company has already initiated action to divest its stake in MCX up to 24 per cent.
"Such move is vindictive in nature to support certain vested interest and deprive FTIL of its level-playing field to sell its shares," Financial Technologies said.
FTIL said the company has challenged the market regulator Forward Markets Commission (FMC) order that declared Financial Technologies and Jignesh Shah unfit to run any commodity exchanges. FMC had also directed FTIL to reduce its stake to 2 per cent from the existing 26 per cent.
After the payment crisis at the NSEL, the