The National Spot Exchange (NSEL) failed to make good the entire second tranche of payments due on Tuesday, paying out just Rs 12.60 crore against the promised amount of Rs 174.72 crore. In the first round of payouts on August 20, NSEL had managed to pay just Rs 92.13 crore.
The exchange, however, said it will clear dues of Rs 177.23 crore to small investors from a bridge loan taken from its parent company, Financial Technologies India (FTIL). While 608 small investors who were to receive up to Rs 2 lakh each as of July 31 will be paid in full, another 6,380 investors, who are owed above Rs 2 lakh and up to Rs 10 lakh, will receive 50% of the amount. These investors will receive the remaining amount proportionately as per the settlement plan.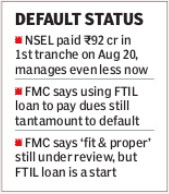 But the Forward Markets Commission (FMC) refused to accept the R177.23 crore as part of the settlement. "This is definitely a default as per our approved settlement plan," FMC chairman Ramesh Abhishek said, adding that the R177.23 crore had not been paid from the escrow account.
With NSEL defaulting on the payout a second time, the FMC will once again revisit the "fit & proper" status of the promoters. "FTIL has taken some responsibility so that's a start," Abhishek told FE, adding that a team had been put in place to look into what action needed to be taken.
Brokers, however, questioned the rationale behind the exchange's decision to pay smaller investors first. Their contention was that very few investors had an exposure of up to Rs 2 lakh given the NSEL investment product requires an investment of about Rs 5 lakh to Rs 6 lakh. "We don't have clarity on why NSEL strayed from a pro-rata settlement. This action may lead to litigation given that most brokers won't be happy with this option," said CP Krishnan, whole-time director of Geojit Comtrade.
"The plan is not fair and not transparent and could lead to litigation," Motilal Oswal told a business television channel.
NSEL also announced that Grant Thornton has been appointed as the forensic auditors and commenced the audit on Tuesday. Separately, the NSEL Investors' Forum — a recently formed body — will hold a protest demonstration in Mumbai on Wednesday.