The board of the National Spot Exchange (NSEL), which is blaming the senior management of the spot exchange for the ongoing settlement crisis, approved the introduction of long-term "paired contracts" nearly four years ago that led to the bourse essentially becoming a platform for raising short-term finance, finds a forensic audit report prepared by Grant Thornton. The report was commissioned by NSEL after it sacked its CEO Anjani Sinha for his role in the R5,600-crore payments crisis at the exchange.
The volume and value of such financing trades grew substantially over the years and became the main contributor to turnover on the exchange, excluding the e-series contracts. The share of such trades rose from 25% in 2009-10 to as high as 97% in 2012-13. In the four-month period between April and July 2013, the share of paired contracts was 99% of the total turnover.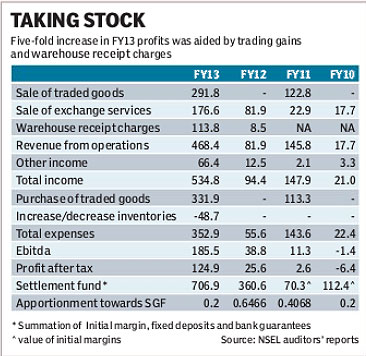 "The introduction of these long-term contracts resulted in members, acting in collusion, to enable a financing mechanism by simultaneously engaging in back-to-back trades... The exchange platform facilitated, and provided a faster medium of financing, by being a counterparty guaranteeing both sides of the trade," says the forensic report.
The board of NSEL ratified contracts with a long-term settlement period in 2009 and subsequently contracts with a tenure of more than 11 days were introduced. The board minutes dated November 16, 2009, ratified trading of T+18 and T+36 contracts, while the minutes dated December 19, 2009, ratified T+25 contracts, notes the forensic audit report.
This is in sharp contrast to the claims made by the board that the crisis was the result of mismanagement by the senior management with the board completely unaware of the developments.
The report further finds that via this mechanism, short selling was enabled on the exchange, which is a violation of regulations governing spot exchanges.
In fact, review of internal emails by the forensic audit panel showed that returns on such investments were being circulated internally.
In addition, investor presentations prepared by NSEL clearly provided a yield for investment in various products as part of the contract specifications.
"This is in contravention to the representations made by NSEL to FMC refuting any form of investment-type schemes being offered on the NSEL exchange," says the forensic audit report.
Interestingly, while such contracts were introduced during 2009-10, only one member – NK Proteins – traded in these contracts in the first year. Subsequently,