The Prime Minister's flagship financial inclusion initiative Jan Dhan Yojana may perhaps find its biggest challenge in Narendra Modi's home state, Gujarat.
According to a survey of financial inclusion in India funded by the Bill & Melinda Gates Foundation and conducted by InterMedia India, a Washington-based consulting firm, Gujarat, along with Bihar, Orissa and the North Eastern states, lags significantly on the indicators — owning a bank or mobile money account.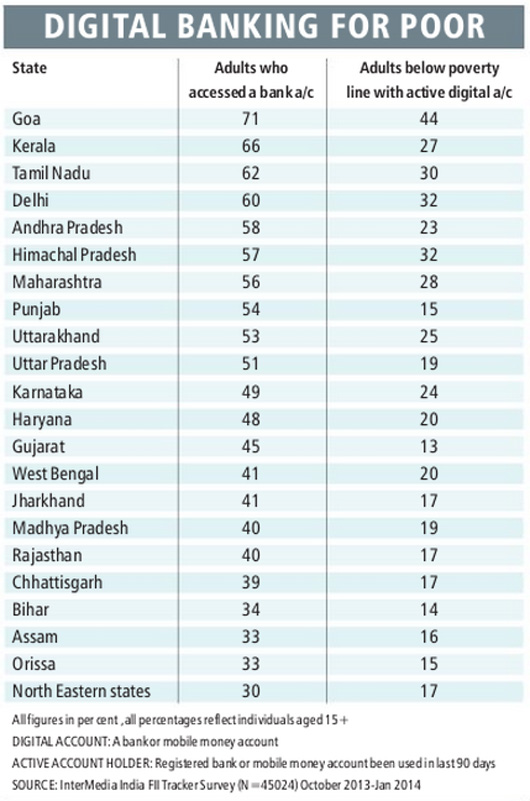 In fact, on two critical indicators — percentage of adults below poverty line having active digital accounts and per cent of rural women with active accounts — Gujarat comes at the bottom with a dismal 13 per cent and 8 per cent respectively. Bihar and Punjab are placed just above Gujarat as per the survey on these two parameters.
On the overall ranking on percentage of adults who ever accessed a bank account, the North Eastern states and Orissa lag the most with 30 and 33 per cent respectively.
Gujarat stands out of the top 10 with 45 per cent of the adults in the sample having a bank account. Bihar, Rajasthan, Madhya Pradesh, Chhattisgarh, Jharkhand and West Bengal also come in the bottom half. Uttar Pradesh, however, figures in the top 10 on this indicator.
Goa has been the top performer in financial inclusion across almost all parameters in the survey. States such as Tamil Nadu, Himachal Pradesh, Kerala, Maharashtra, Karnataka and Andhra Pradesh have done significantly in terms of enrolling more people into the formal banking system.
Bankers, however, seem upbeat about the Jan Dhan Yojana. "As against covering villages with population of over 2,000 in previous initiatives, the new scheme focusses on covering households across the country," said KR Kamath, CMD, Punjab National Bank.
When asked why some states have lagged in the past in financial inclusion, Kamath said, "In the past, it had been a supply based financial inclusion and there was no incentive to open an account, which is why some states may have lagged. However, under the new financial inclusion drive, the benefits to be transferred by the government would be flowing into the bank account and hence there is an incentivet. So there will be participation from all states."
While there is a big gap in the states' performance on financial inclusion, a senior finance ministry official said, "The new scheme has been structured to provide incentive and while it