It has been a year since multi-brand retail was thrown open to overseas firms, but the government is still trying to convince foreign retailers to set up shop in the country. Meanwhile, domestic organised retailers are slowly trying to consolidate their position in the market. The attempt is to focus on cost-cutting and planning expansion in a more sensible way in the wake of muted growth projections. The biggest pain point remains the development of a back-end supply chain which would lower operational costs and bring in more efficiency.
In short, the organised retail story has not had a happy beginning.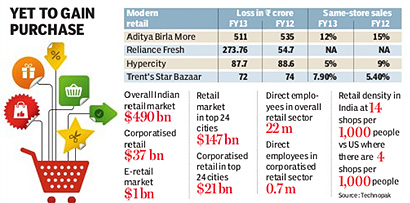 The cautious approach can be gauged from the fact that the top three listed retailers, Future Group, Trent and Shoppers Stop would add about 1.98 million square feet of total space this year, 22% lower than the space they added last year. During FY14, Kishore Biyani's Future Retail is to add 1.25 million square feet of space, lower than the 2 million square feet it added last year. The R400 crore the company plans to spend on expanding its formats is 33% lower than its investment levels last year.
Caution underlines the strategy of foreign retail firms too, albeit for different reasons. When the government opened its doors to foreign retailers last year on September 20, it was confident that global retail names like Wal-Mart, Carrefour and Tesco would waste no time to start operations here. However, the companies first waited for months for a host of clarifications from the government on a set of conditions that came with the approval of foreign direct investment in multi-brand retail and now ostensibly seem to be waiting for a suitable political climate.
"Foreign retailers are in wait-and-watch mode not only due to lack of clarity from the government, but also due to a slowdown in emerging market economies," said Pinakiranjan Mishra, partner at consulting firm EY.
Things are relatively better in single-brand retail, where too the foreign investment cap was raised from 51% to 100% last year. The government has already cleared the Swedish furniture maker Ikea's R10,500-crore investment project. Others like garment brands Hennes & Mauritz and Brooks Brothers, Italian jewellery retailers Damiani and UK footwear label Pavers are set for an India entry soon.
On the domestic organised retail front, the positive was that Mukesh Ambani's Reliance Retail opened 184 stores during the 2012-13 fiscal