The BJP being in power both at the Centre and in Gujarat may pave the way for an amicable out-of-court settlement of the decade-old dispute between ONGC and the state government over the quantum of royalty.
Official sources said one possible option could be to ask ONGC to accept a formula that could prospectively reduce its subsidy outgo. The state-run firm may, however, have to agree to pay the R10,000-crore dues to Gujarat till September 2013 as directed by the Gujarat High Court in November last year.
The dispute, now pending in the Supreme Court as ONGC moved the apex court against the HC order in February, is over whether royalties to states by the explorer be paid on the gross crude oil price or the net (discounted) price it is actually sold at to retailers. Currently, ONGC, which shares about 40% of the oil subsidy burden, pays the royalty to both the Centre (for offshore fields) and states (for onshore fields) on the net crude price. In the case of states, the shift from gross to net price for royalty was made in 2008, in concurrence with the oil ministry. Gujarat has objected to this and has got a favourable court ruling.
According to sources, petroleum minister Dharmendra Pradhan is keen to find a way to settle the long-pending dispute. Although it is not clear if ONGC would be prodded to withdraw the appeal in the Supreme Court, Pradhan is learnt to have held multiple meetings with Gujarat energy minister Saurabh Patel discussing the issue.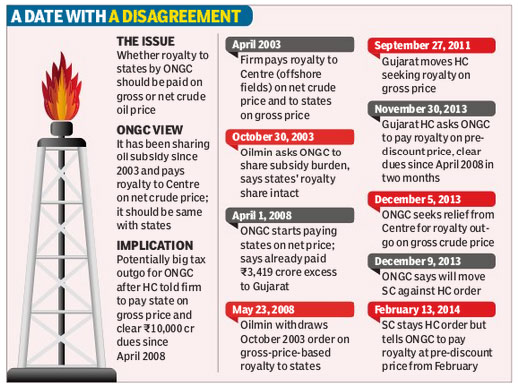 "The Congress-led UPA government's stand led to a revenue loss of R10,000 crore to Gujarat. We want to resolve this without hurting the interests of both the parties," a minister with the Modi Cabinet told FE.
However, one issue the Centre may have to confront in seeking a solution to the issue is the chances of other crude oil-bearing states like Assam, Andhra Pradesh and Rajasthan following suit and claiming higher royalties from ONGC for past production.
Since the PSU shares a chunk of the oil subsidy bill, there is a wide gap between the gross (pre-discount) and net (post-discount) crude oil price.
For instance, in January-March FY14, ONGC sold crude oil at an average of $106.65 per barrel. However, after compensating government-owned oil marketing companies for selling fuel below cost, the net realisation stood at just $32.78