The market sentiments may have improved significantly over the last few months and a large number of real estate developers have already come out with new project launches in the first three months of calendar 2014, but the issues concerning the home buyer, especially delays in the delivery of the project, only seem to be on the rise.
A look at the supply situation within the industry shows that on the one hand the industry has more than doubled on its completed residential inventory over the five-month period between August and December 2013, there is a huge gap in the number of units that were to get completed by the end of December and in the number of units that have been actually completed. This points to a rise in the delay in delivery of projects.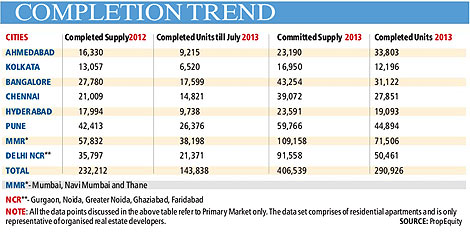 According to data compiled by PropEquity, a real estate analytics company, the top 15 cities in the country witnessed a sharp jump in their completed real estate residential units in the last five months of calendar 2013.
While the completed residential inventory stood at 1,43,838 units at the end of July 2013, by the end of the year, the completed inventory jumped by 102 per cent to 2,90,926 units.
A closer look into the data further reveals that a large portion of the inventory that was supposed to have been completed did not come up and is therefore plagued by delays.
While the data at the end of July projected that a total of 4,06,539 units would come up in 2013, the numbers fell short significantly and stood at only 2,90,926 units, thereby opening a huge gap in the committed and actual supply of 1,15,613 units. So almost 44 per cent of the committed supply did not actually come between August and December 2013. In other words, these are the number of units where completion has been delayed and show the sorry state of the on-time delivery of projects by the real estate developers.
Experts say that on an average, the delay in projects is to the tune of 12-18 months and it is mostly on account of the slowdown in demand and the situation of oversupply in the market.
"The delays are directly related to the market conditions where sales are down and the cash flows are affected. Most of the delays are by design as the developers do not want to keep