ITC Ltd valuation level builds in reasonable earnings growth: The ITC stock has corrected 5% since the Q2 results, which, in our view, is an overreaction to a small blip in cigarette volumes (3-4% decline) even though clean earnings growth was still robust and in line with consensus. In our view, ITC Ltd remains fully on track to deliver 17-18% cigarettes Ebit (earnings before interest and taxes) growth for the full year. While volume growth in cigarettes looks weak and volume impact will continue to fade, as we move into the second half, earnings growth expectations built into valuation are fairly modest. We see this weakness as a buying opportunity.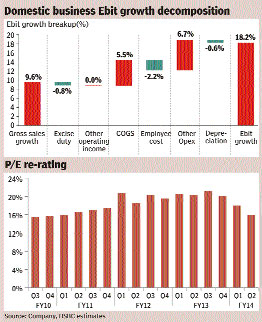 Strong earnings growth: ITC Q2FY14 top line growth of 9% was below consensus, (but only due to agri business, which had a disproportionate higher base last year due to wheat exports), while reported profit after tax growth of 21.5% was
5% ahead but had a benefit of R1.58 bn liability write-back in cigarette segment. Adjusted for that clean PAT was in-line.
The street was disappointed with the cigarette volumes decline. But we must point out that ITC has taken price increases quite aggressively and in a staggered manner—most notably a sharp price increase in Gold Flake regular segment for the second time.
History tells us that volume impact in the immediate quarter of price increases is most pronounced and it gradually fades away. Nonetheless, compared to its own history volume decline, it is still in low single digit despite the sharp increases in the last two years successively. But price hikes helped in 10% net revenue growth while margin expansion led to cigarette segment clean EBIT growth of 16%.
Q2FY14 results summary: Top-line growth of 9% y-o-y to R77.8 bn was 4.5% lower than consensus. But this was largely due to weakness in agri exports. Adjusting for this one-off, group's underlying revenue growth would have been 15.2%. Reported PAT growth of 21.5% y-o-y to R22.3 bn was 5.5% ahead of consensus. But clean PAT (adjusted for R1.5 bn liability write-back in cigarettes), was in line with consensus expectations. While the 3-4% decline in cigarette volumes was a disappointment, cigarette Ebit margin (on net revenues) expanded by 331bp y-o-y, reflecting the positive impact of price increases (19% average price hikes were taken in H1FY14).
In the cigarette segment, net sales and Ebit grew by 10%