With the Indian rupee falling by 5.5 per cent against the US dollar in five days, Finance Minister P. Chidambaram today said the currency is undervalued and has overshot appropriate levels but sought to assuage investors asserting there is no need for "excessive and unwarranted pessimism".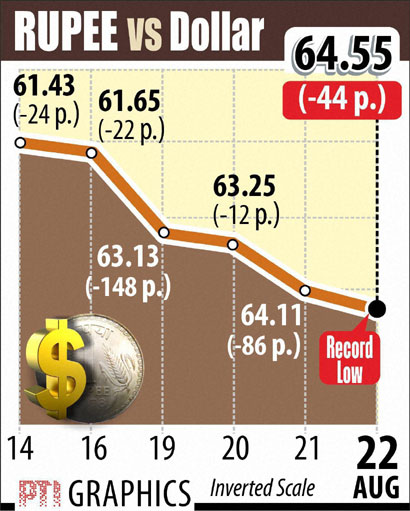 After maintaining silence for the whole of this week on Indian rupee's steady fall, Chidambaram addressed a press conference on a day when the Indian rupee breached 65-mark against dollar to assert that there was no cause for panic and said stability will return to currency markets as government continues to promote investment and growth.
"We believe that rupee is undervalued and has overshot what is generally believed to be a reasonable and appropriate level," he said.
Chidambaram, who earlier in the day held a three-hour long discussions with RBI Governor D Subbarao and his successor Raghuram Rajan, said: "There is no cause for panic that seems to have gripped the currency market and that is feeding into other markets.
"We are confident that stability will return to these markets and we can get on with the task of promoting investment and growth."
Stressing that there was no reason for "excessive or unwarranted pessimism", the Finance Minister said the recent steps taken by the Reserve Bank of India (RBI) to reduce volatility in forex market and quell speculation would be revisited.
Subbarao in a separate media briefing said India has adequate forex reserve to meet the current situation and the central bank will take appropriate measures to curb rupee volatility.
Chidambaram also said there was no move to introduce any capital control measures to check current account deficit (CAD).
"There was - and is - no intention to introduce any type of capital control, including controls on repatriations.
It is not the policy of the government or the RBI to resort to capital control or reverse the direction of capital account of liberalisation. The measures that were taken last week will be revisited as stability returns," Chidambaram said.
To restrict outflows of foreign currency, the RBI on August 14 announced stern measures, including curbs on Indian firms investing abroad and outward remittances by resident Indians.
Chidambaram hoped that capital inflows in due course will correct the position of rupee.
With increase in FDI inflows by over 70 per cent in the first quarter and exports putting up better performance, the current account deficit (CAD) is showing improvement, he said.
"...