If you are in the market to pick up a new smartphone for yourself or for your dear ones, chances are you'll be confused by the staggering number of mobile devices occupying the shelves of gadget shops these days. Of course, if you are keen to pick up an iPhone, BlackBerry or a Samsung high-end phone, then the task is made simpler; such devices attract a committed clientele and are a league in their own. It is the mid-range segment that I am referring to, which sees a new Android device debut almost daily and with such a wide choice available, that too at affordable rates—it is obvious that for an ordinary customer, confusion looms.
No wonder, handset vendors are working overtime to differentiate their offerings in some way or the other. Take for instance, Japan's Panasonic, best known for its television sets and home theatre systems. Although the consumer electronics major is rather late in entering the Indian smartphone market—brimming with action these days—nevertheless, it is working hard to establish itself here. What better way than to entice customers with stylish and advanced devices, which are easy to use and easy to own.
Panasonic's new Eluga U smartphone stands out in the crowd primarily because of its good looks, judicious mix of hardware and software and premium build quality. And its very much affordable too—R18,990-a-piece. It is available in black and white colours. Let us check out the device's chief features and whether it will appeal to the users.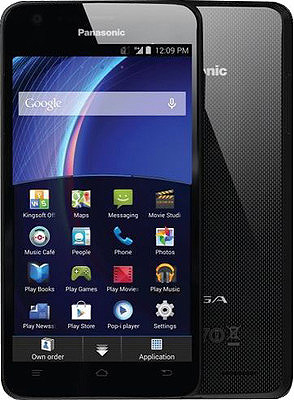 Panasonic officials reckon that the Indian smartphone market is young and growing at a rapid pace, with ample space for newer players to enter and garner the best of the opportunities offered by this space. The huge potential of India lies in the fact that it offers a very large customer base to tap into. Indian smartphone market is fast-growing with enormous consumption possibilities and is yet to reach its maturity curve. No wonder, the Japanese consumer electronics firm (Panasonic) is bullish on the Indian market and is making aggressive investments in the region on products, talent and marketing.
Back to their new offering. In terms of the design, Eluga U is the best Android phone I have laid my hands on in quite some time. Measuring 141.5 x 71.3 x 7.95 mm, this Eluga is large, yet thin. The first impression is