With the growth shown by e-commerce companies, it is not surprising that they are attracting private equity investments, which are getting bigger by the year. Consider this: private equity investments in e-commerce companies so far this calender year have far exceed investments in the whole of 2013.
Private equity investors, along with strategic investors, have put in $791.45 million in e-commerce companies so far in 2014, which constitutes nearly 21% of the total $3.7-billion PE investments made in India during the same period.
This is way higher than the $715.28-million investments made by PE players in e-commerce firms in 2013, which constituted around 8% of the total PE investments of $10.4 billion in the year.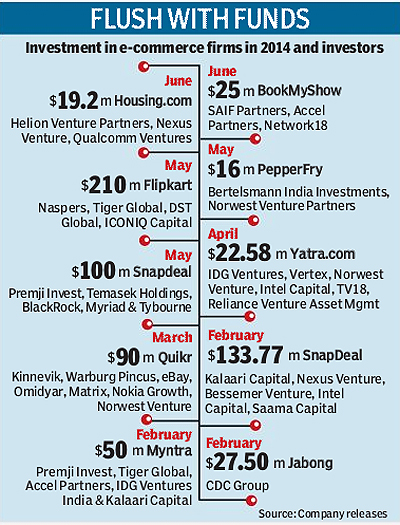 So far this year, at least 18 deals have been reported, with global investors putting money in online portals offering sales and services related to travel bookings, retail, grocery, fashion, classifieds and so on. Tiger Global, Norwest Venture Partners, Accel Partners, Matrix Partners, Kalaari Capital, SAIF Partners and Nexus Venture Partners have been among the most active PE/VC investors in e-commerce companies lately.
Last week alone saw two relatively sizeable PE deals, with real estate search portal Housing.com announcing $19.2 million fund raising from venture capital firms led by Helion Venture Partners and Nexus Venture Partners; and online ticketing firm BookMyShow receiving $25 million funding from SAIF Partners, Accel Partners and Network18.
Raja Lahiri, partner, Grant Thornton India, says rising private equity investors' interest in e-commerce firms seem to be fundamentally driven by rapid growth of internet in India. "Also, the buying behaviour of the younger population has seen a dramatic change, as they find it convenient to transact online," he adds.
In the past five years, the number of internet users have grown by almost 3.5 times, aided by higher smartphone penetration, suggests recent data by Internet & Mobile Association of India (IAMAI).
Brokerage firm Morgan Stanley in its recent report said it expects data subscribers to grow at a CAGR (compound average growth rate) of 25%, from nearly 210 million to 519 million in the next four years. Also, with half of India's total 1.2-billion population falling under the 25-year age bracket, consumer lifestyles have seen a drastic change.
Suvir Sujan, co-founder of Nexus Venture Partners, the firm which has partly funded investments in Housing.com and Snapdeal, says the internet has reached critical mass in India and many businesses will