No near-term material upside in KG-D6, volumes to hover around current levels
Sequential improvement driven by refining, government approvals the key for E&P division RIL reported Q2FY13 Ebitda (earnings before interest, taxes, depreciation, and amortisation) of R77.1bn (-22% year-on-year, +14% quarter-on-quarter) and profit after tax of R53.8bn (-6% y-o-y, +20% q-o-q), 5% and 2% below our estimates.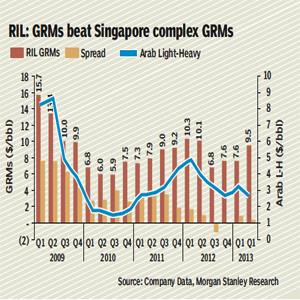 The miss largely stemmed from weaker petrochemical margins and lower-than-expected volumes in the E&P (exploration& production) division, partially offset by lower depreciation and higher other income.
Net financial income contributed a high 20% of PBT (profit before tax). In our view, Q2FY13 was an expectedly strong quarter sequentially, driven by robust GRMs (gross refining margins), which we expect to moderate in coming quarters. Petchem margins remain subdued. Domestic E&P volumes continue to decline. We maintain an Underweight rating on the stock.
Entire sequential improvement driven by refining: RIL's Q2FY13 GRMs were $9.5/bbl (barrel), up 25% q-o-q and at a $0.4/bbl premium over Singapore complex GRMs, but down 6% y-o-y. RIL attributed the better GRMs to overall improved product spreads and its flexibility to optimise refining yields to maximise margins.
The throughput of the refinery improved to 17.6 mt, up 1.7% on a q-o-q basis. Reported Ebit (earnings before interest and taxes) of R35.4bn for the division was up 65% q-o-q and 15% y-o-y. We highlight that the recent strength in GRMs is largely driven by unexpected refinery shutdowns globally, which we now expect to reverse. Coupled with additional new refinery capacity in China in Q4FY12 and onwards, this should put downward pressure on GRMs.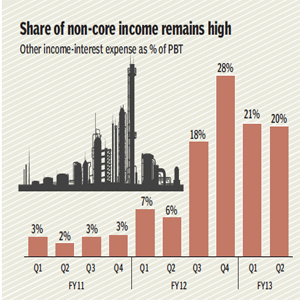 Petchem remains subdued: Ebit remained largely flat sequentially and declined 28% y-o-y. Management attributed the weak performance to continued low-cycle margins for naphtha-based crackers. RIL highlighted that though domestic demand in India is robust, demand in China, which is the key demand driver for petrochemical products, remains sluggish. China is also a key export market for RIL's products. RIL reported 6% sequential improvement in its petchem volumes, which it largely attributed to strong domestic demand.
E&P
KG D6 volumes continue to decline: Gas volumes were down 12% q-o-q, averaging 28.5 mmscmd (million metric standard cubic metre per day) for Q2FY13; oil was down 12% to 8.7kbpd (thousand barrels per day). RIL continues to highlight that complexity of reservoir and higher water cut have been causing the production decline. Oil and gas production from PMT