India's opposition on Monday poured scorn on an oil ministry, led by Veerappa Moily, petrol pumps closing time proposal at night, the latest in a series of ideas evoking the country's austere past as the government grapples with a jarring fall in the value of the Indian rupee against the US dollar.
The Indian rupee has plunged almost 20 percent since May, partly on concerns about the world's third-largest current account deficit (CAD), prompting government steps such as a ban on the free import of flat screen TVs and curbs on buying hard currency.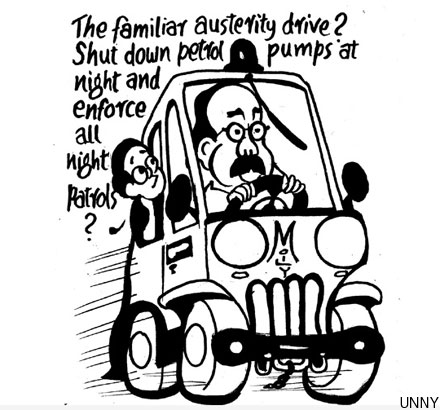 Such steps remind many Indians of the "the License Raj" that existed before a balance of payments crisis in 1991 prompted reforms to liberalise the economy. Under that system, people had to navigate a labyrinth of controls that led to shortages, bureaucratic corruption and a thriving black market.
Related: Petrol price goes up by Rs 2.35 a litre, diesel by 50 paise
Oil Minister Veerappa Moily on Monday appeared to back away from the proposal to close gas stations from 8 p.m. to 8 a.m. to lower consumption, after a public outcry and criticism by politicians ranging from the hard-right to communist parties.
"This will only hurt the country and there will be no benefit," said Yashwant Sinha, a former finance minister and senior member of the main opposition Bharatiya Janata Party.
Related: Govt mulling Rs 5 a litre hike in diesel prices as fuel subsidy bill balloons
"These are steps that will lead to more panic about the mismanagement of the economy in the country. I do not know why a responsible government minister would talk like this," he said.
Moily first floated the idea on Saturday, saying he was working on the details as part of a plan to save $25 billion from the oil import bill and strengthen the rupee.
"We are going through difficult times. We need to discipline ourselves. People will have to tighten their belt and some austerity measures have to be taken without affecting economic activity," he said in comments to the Indian Express newspaper.
In letters sent to the prime minister and the finance ministry, Moily proposed a series of measures, such as a $2.6 million public relations campaign, including "street theatre", to promote lower fuel usage.
Following the outcry, an official at the prime minister's office said the petrol pump suggestion would not be