Samsung and other electronics companies used the IFA trade show in Berlin to showcase their holiday lineups.
New smartphones, computerised wristwatches and a virtual-reality headset were among the gadgets announced Wednesday.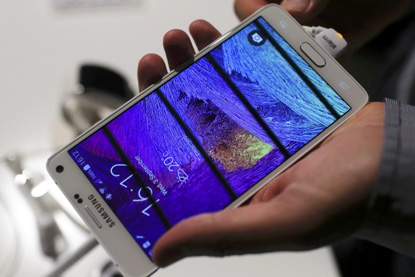 The Galaxy Note 4 have a 5.7-inch screen
SAMSUNG ELECTRONICS
The Korean electronics company says it will start selling two new smartphones and a virtual-reality headset in October. The Galaxy Note 4 will have a 5.7-inch screen, while the Galaxy Note Edge's will be 5.6 inches.
The Edge will be notable in having a side display for quick access to the flashlight, Twitter, news and frequently used apps. While the main screen remains flat, the right edge extends and curves until it reaches the back.
Weather and time can be seen from the side when the phone is laid on a table or nightstand. The phone's camera functions more like a stand-alone, point-and-shoot camera, as the shutter button and other functions appear on top when the phone is held horizontally.
The side display also provides one-tap access to such tools as the flashlight and stopwatch, akin to what Apple offers in the iPhone's Control Center with a swipe up from the bottom.
Samsung will look to app developers to find new ways to use the feature.
Samsung didn't announce prices. In the U.S., last year's Galaxy Note 3 went for about $700 without a contract, or $300 with one. Prices are likely to be similar for the Note 4 and higher for the Edge.
Both models will have a 16 megapixel rear camera and 3.7 megapixels on the front. The front camera will be able to take sharper selfies than the typical camera phone. It will also have a wide-angle feature to fit more people into selfies by stitching multiple images together.
Meanwhile, Samsung will sell a $200 Gear VR headset as a companion to the Note 4. It won't work with the Edge or other phones. The Note 4 attaches to the headset, which has sensors to gauge the head's position and tells the phone which part of a 360-degree image to display. It can be used to give people an immersive experience with concerts, aerial footage and games, though more content will have to be created for it.
The VR was developed with Oculus, which Facebook bought this year.