With the GDP growth slowing sharply, the risk perception of regulated business models has risen. While earnings certainty is higher, cash flows would see higher discounting. Delays in tariff hike and lower coal prices have taken a toll on Tata Power. However, it is our preferred pick as steps towards a tariff hike continue. We prefer Power Grid Corporation of India Ltd (Buy) to NTPC (Hold) for its better profit CAGR (compound annual growth rate). We upgrade Adani Ports to Hold from UP (Underperform) as the slowing CAGR is priced in.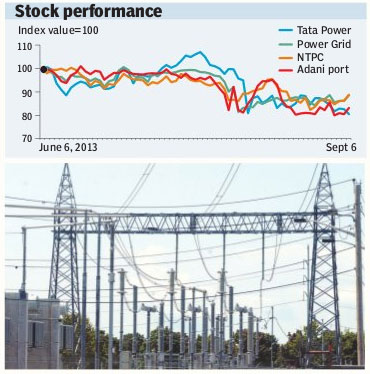 Tariff hike commentary delayed, but gaining ground: Aggressive bidding has led to the non-viability of power projects in the private sector. The scale of these projects, especially given the debt exposure apart from equity, has led government authorities to look for solutions. Incremental steps are clearly in this direction, especially with the Deepak Parekh committee recommending a 57-58 paise tariff hike for Tata Power and Adani Power's loss-making projects. However, the vacuum in decision-making in the past 12 months has taken a toll on Tata Power's share price.
The ball is currently in CERC's court to gauge the extent and conditions and subject to these, the hike should be passed. Note that consumer forums have requested CERC (Central Electricity Regulatory Commission) for a hearing before approving a hike, given that electricity will become costlier. We believe an eventual hike is the likely outcome so that, at least, the project debt becomes repayable.
Groups involved in tariff revision plea account for 25% of the upcoming private sector capacity addition: As the private sector increased interest and investments in the power sector, two forms of bidding emerged gradually. In Case-I bidding, the bidders are not given land or related tie-ups for setting up capacity and they commit to supplying power at the price that they bid.
In Case-II bidding, bidders are given land and related amenities for the project and have to supply power at a price based on their independent fuel and project cost assumptions.
An example of Case II bidding is the ultra mega power project (UMPP). About 12,000 MW of power projects bid under Case-II among Tata Power, Adani Group and Reliance Power are currently involved in petitions for tariff revision. Essentially, given the aggressive nature of