Indian stock markets today rose for the third day with S&P BSE Sensex jumping 218.68 points to end at over two-week high of 18,619.72 after PM Manmohan Singh assured that the Indian rupee's decline will be addressed without capital controls or reversal of reforms - TCS shares hit all-time high.
The Indian rupee also appeared to strengthen with the rupee gaining over 50 paise to trade at 66.05/06 levels against the US dollar compared to yesterday's close of 66.55.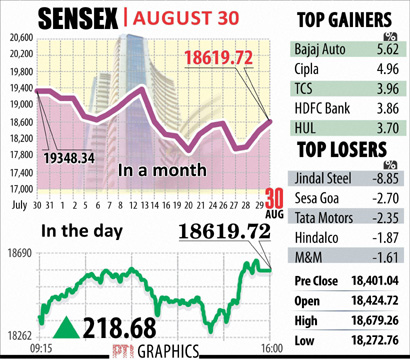 While the stock markets were volatile as the Prime Minister began his speech in the Parliament shortly after noon, share prices surged on heavy buying in the last 90 minutes of trade with sectors like consumer durables, healthcare, banking, IT and FMCG seeing good enquiries.
PM Manmohan Singh in LS: Read full speech
The 30-share BSE Sensex ended at 18,619.72, up 218.68 points or 1.19 per cent, extending gains to the third session in which the index has rose over 650 points. Today is the highest close for Sensex since August 14 (19,367.59).
"The PM said once again that 1991 crisis will not be repeated and sub-3 per cent GDP is very far from happening. Market showed strength ahead of GDP numbers to be announced today. Oil prices eased as Syria crisis seems to be away," said Rakesh Goyal, Senior VP, Bonanza Portfolio Limited.
On similar lines, the Broad-based NSE Nifty rose by 62.75 points, or 1.16 per cent to end at 5,471.80, after moving between 5,360.20 and 5,493.30. Also, MCX-SX' SX40 index ended at 10,938.49, up 88.98 points.
Quote: Multi Commodity Exchange of India Ltd (MCX)
Prime Minister Manmohan Singh also said the government will now have to undertake more difficult reforms, including reduction of subsidy and implementing GST, to put economy back on the path of stable, sustainable growth.
In the BSE Sensex pack, the two most influential counters Reliance Industries (RIL) rose by 0.73 per cent to Rs 851.55 and Tata Consultancy Services (TCS) by 3.96 per cent to Rs 2,023.15. Other major gainers were Cipla Ltd, Dr Reddys Laboratories, Bajaj Auto, Hero MotoCorp, Hindustan Unilever (HUL) and State Bank of India (SBI).
Sectorally,