Hailing the Rail Budget as "futuristic and growth-oriented", Prime Minister Narendra Modi today said it is for the common people as it aspires for better service, speed and safety with focus on development of the country. (Rail Budget: Highlights)
He said the Rail Budget presented in Parliament by Railway Minister Sadananda Gowda shows where his government wants to take India through the railways as it focusses on strengthening institutional mechanism, transparency and integrity.
"Congratulations to the Railway Minister for presenting a futuristic & growth oriented budget. It is a budget for the common people," Modi tweeted.
He said the Rail Budget "aspires for better service, speed and safety. It is an effort to create a modern Railways contributing towards a developed India."
In a series of tweets, Modi said, "Rail Budget shows the important role of Railways in India's development journey."
He said the Budget keeps in mind the development of India.
"This Budget shows where we want to take the railways and at the same time where we want to take India through the railways," Modi said, adding, "We can see the great use of technology also."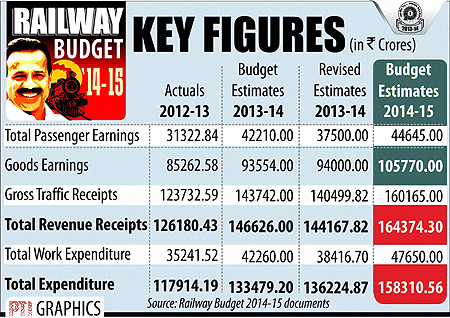 Hailing the Railway Budget, Parliamentary Affairs Minister M Venkaiah Naidu said it is "realistic and comprehensive" as honest analysis had been made about the state of affairs and health of Indian railways.
"The way forward has been clearly outlined in the Budget. Safety, security and service...all these three aspects have been taken care of and the Railway Minister has also made a realistic assessment about the need to complete the ongoing projects," Naidu told reporters outside Parliament House.
He said hundreds of projects were announced in the previous budgets but the works have not been completed.
"So this government has taken up that responsibility of completing all ongoing projects on priority," the Minister said.
"Instead of going populist and becoming unrealistic and creating hardship to the people in the long run, the Railway Minister has made efforts to see that the safety, security and service aspect is given high priority and also completion of ongoing projects have taken on a priority," Naidu said.
The high speed trains, bullet trains they all are "indication of the thinking of the government", he said.
"The entire India is connected and I am more happy about