Vowing to end the misery in the electricity sector, new Power Minister Piyush Goyal has set transmission and distribution as his focus areas and is working to bring states on board for reforms.
As much as 30 per cent of the power generated in India is lost during transmission and distribution. In some areas, power does not reach users -- even when it is available -- due to the lack of transmission capacity, most recently demonstrated when a storm snapped lines and caused long outages in the national capital.
Sources in power ministry said BJP-ruled Rajasthan and Andhra Pradesh have agreed to work with the Centre to reform the transmission and distribution sector.
Goyal is likely to visit these states soon to ascertain their demands in the power sector and how the central government can provide the requisite assistance. The minister views transmission and distribution of electricity to the end consumer as the major challenges, rather than generation of power.
The installed capacity of power stations in the country was 2,48,509.63 MW at the end of May, according to data on the Central Electricity Authority website. Rajasthan had 14,945.68 MW and Andhra Pradesh 17,731.07 MW.
"Now, the country has enough generation capacity. What is needed is operationally efficient and financially healthy transmission and distribution utilities.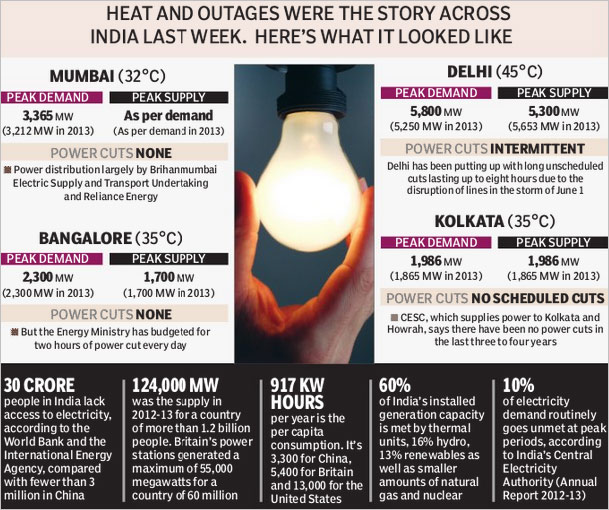 The Centre is absolutely right in focusing on T&D segment," said Debasish Mishra, senior director at Deloitte India.

Cong protests over power, water crisis

Keeping up its offensive over long power outages and water crisis in the national capital, Congress today held a protest in Karol Bagh area of central Delhi and demanded immediate intervention of the Centre to address the problems. All Indian Congress Committee (AICC) general secretaries Shakeel Ahmad and Ajay Maken, and Delhi unit chief Arvinder Singh Lovely led scores of party workers, who also brunt effigies of Prime Minister Narendra Modi and former Delhi Chief Minister Arvind Kejriwal, holding them responsible for the crisis.

Lovely said as Delhi was under President's Rule it was the BJP-led central government's responsibility to address the outages and water crisis.