The business of private labels is booming. It is because, analysts say, they offer a win-win solution to both retailers and end consumers.
By eliminating the margin of middlemen, retailers pass on the benefits to consumers. Besides, private labels enhance the bargaining power of the retailer while negotiating with the manufacturer brands. A recent KPMG report has estimated its market size at Rs 6,500 crore. It's hardly surprising that even Birlas and Ambanis have a presence in the market. All are upbeat.
For example, Reliance Fresh and More have extended their private labels range to cover a large number of items and have been quite successful. Retailers like Koutons and Cotton County too sell a range of private labels — and quite successfully. Megamart of Arvind brands is also adding a number of private labels to its portfolio.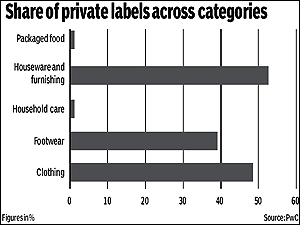 Purnendu Kumar, associate vice-president, Technopak Advisors, says that private labels saw a growth of 30% in the last one year. While expanding their private label ranges, retailers are trying to focus not only on offering cheaper versions of brands, but are using private labels as a strategic tool. Private labels enable retailers to fill in the product range and also differentiate themselves from other retailers. Since private labels offer better margins, the extra money allows retailers to fight off competition.
Organised retail players are aggressively pursuing the strategy of promoting sales of private labels by opening new stores, growing the formats and improving quality and general merchandise. In fact, a PwC report says that private labels currently constitute about 50% of the total organised apparel industry and 40% of the organised footwear industry. The report further says that over the last few years, private labels in the apparel sector have been growing at 12%, footwear labels at 14% and housewear and home furnishing labels at 20%.
"Consumers prefer to stay with the leader in the time of uncertainty as they trust that the leader would take decisions in the best interest of consumers. Since we are a full range retailer with our private brands offering value to consumers, we saw good growth in our private brands during these times. Private labels contribute 20-30 % of the sales in categories where we are present," says Devendra Chawla, head, private brands, Pantaloon Retail of the Future Group.
Organised retailers are now getting their backend in place, which is helping them to focus