There are many costs that add on to reach the final price of a property. Buyers must be aware, factor all of them in and not rush into a purchase decision. Most important, do not ignore the hidden interest cost that is very real
Buying a house is not the same as buying a car. When a car advertisement says "Rs 5 lakh ex-showroom", the only additional costs to be factored are extra frills of one's choice, road tax and insurance. But if an advertisement for a house proclaims Rs 2 crore onwards, it is not as simple as the price with the registration and stamp duty charges and a fraction for miscellaneous expenses. The final price a buyer has to cough up is actually a lot more, in excess of 35-60 per cent of the declared price, as Vijay Shah, a prospective home owner from Mumbai realised.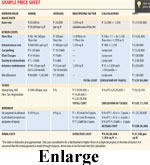 "The rate was attractive so we went ahead and booked this project. When I came to know about the other charges, I decided to withdraw," says Shah who cancelled his booking in a recently launched high rise project by a leading developer in a western suburb.
This problem begins when developers expect high realisations in a sluggish market. Amenities can draw a buyer only to an extent, it is the price that is the primary factor. Developers, therefore, only declare the base rate, which lures buyers who are later caught unawares when the total cost is computed.
Express Estates compared the price sheets of various projects in the Mumbai region posing as a buyer, and information from websites of leading developers in the National Capital Region to arrive at an itemised build-up of the total cost that is illustrated with the example of the Shah family.
PRICES add up
BASE SALE PRICE: The base price declared by the developer to Shah was Rs 23,000 per sq ft. The area of their 2 BHK flat was 1,350 sq ft of super built-up area. Like any other buyer, Shah calculated the cost as 1,350 sq ft × Rs 23,000 = Rs 3.10 crore plus stamp duty and registration charges as per the rules applicable. The rate looked competitive as compared to others in the vicinity and seemed much better with a fraction of the cost considered for amenities. The joy was short-lived, as it was time for the other expenses to add