In an uncertain economic environment, private equity investors are finding the education sector attractive for long-term investments. From just three deals valued at $21.6 million in 2005, investment in the sector till October this year has increased to $238.7 million, according to Grant Thornton.
So why are private equity (PE) investors looking at the education sector with a new zeal? Arun Natarajan, managing director of Venture Intelligence, which tracks PE/VC investment in the country, says this sector has indeed been a favoured one among PE investors for the last few years, but this year saw several deals actually coming through. "The attractive and predictable rate of return in this sector is clearly serving as a magnet for PE investors," he underlines. Mohanjit Jolly, executive director, Draper Fisher Jurvetson (DFJ) India, says, "The mismatch between the sheer number of people to be educated and the dearth of quality education creates a tremendous short-term and long-term opportunity for education investments in India."
DFJ has invested in Delhi-based Catura, which provides digital content for CAT preparation for 10th to 12th graders, with the roadmap to be much broader across subjects and grades.
The reasons are far more than just the demand-supply mismatch. While insufficient supply and high demand offer opportunities for operational scale and top-line growth, multi-year enrolment and knowledge of attrition rates allow companies to better predict their revenue streams. Secondly, growth in enrolment is driven by the low-opportunity cost that a downturn creates for professionals to re-tool and re-skill and banks continue to provide collateral-free credit to fund professional education.
In fact, a CLSA report establishes the growing preference for private sector institutions. While 7% of India's over 10 lakh schools are privately -owned, they account for 40% of the country's 219 million students enrolled. In higher education, the report says, 77% of the 18,000 institutions are privately-owned.
Though these numbers may show a rosy projection for the future, a recent poll among PE/VC firms by Venture Intelligence found that 81% fund managers are willing to invest in education companies over the next few months, clearly indicating a very strong appetite for the industry.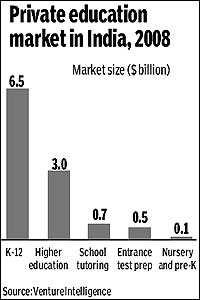 Currently, PE investors are putting in money in technology-based education infrastructure and applications to offline assessment and training institutions and application vendors like coaching classes and pre-schools. Some of the recent notable PE investments are Blackstone Group investing around $42 million in Everonn System, Matrix Partners