purchase property in Noida depending upon their financial condition as MBRI for this sub-cities lies between 21 and 25. Among areas that should be preferred for renting, Dwarka takes the lead not only in Delhi NCR both at the National level as well. In Dwarka, the MBRI has jumped the highest in three years, 19 points, and here rentals are far cheaper compared with the prevailing property price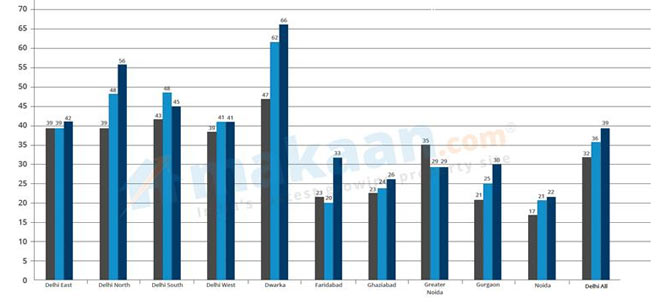 Bangalore – Bangalore has witnessed the highest IT boom in the country and the same is reflected in the property prices. The index for Bangalore has moved to Neutral zone from Buying zone. The MBRI figure has moved from 19 to 24 over three years. The city that was preferred for buying in 2011, moved to Neutral zone in 2012 and moved further in the Neutral category in 2013; it is now suitable for making a conscious investment
Within the city, main pockets like Bangalore North, Bangalore East, Bangalore South and Bangalore West were in the Buying zone in 2011; in 2012 Bangalore North and Bangalore West moved to Neutral zone and in 2013 only Bangalore East remains in the Buying zone. Although, there has been quite a MBRI shift within the sub-cities of Bangalore, only one sub-city: Bangalore Central comes under Renting zone meaning the home buyers can still aspire to own a home in the other sub-cities.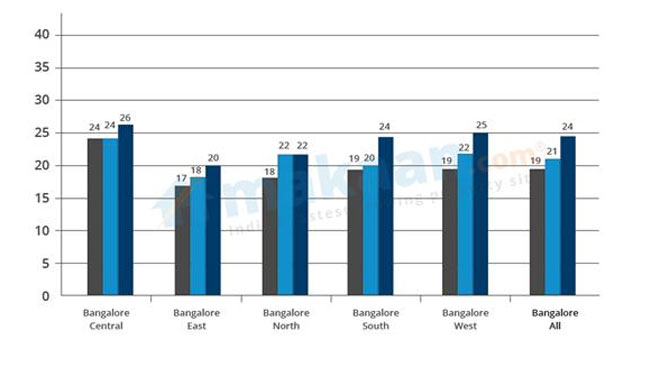 Hyderabad –The index for Hyderabad has moved from 20 in OND 2011 to 24 in OND 2012 to 25 In OND 2013. Overall, the shift has been from Buying to the Neutral zone; however, it can be seen that the major changes happened between 2011 and 2012. It shows that the year 2013 on the whole saw stabilized trends in the property market of Hyderabad. The current MBRI figure shows the city is suitable for making a conscious investment.
Chennai – The index for Chennai has increased from 7 points from OND 2011 to OND 2013 period. The overall city has drastically moved from Neutral to Rental range and property seekers in Chennai are advised to rent a property rather than buying. Both the sub-cities of Chennai that were in Buying and Neutral zone till OND 2011 have now undisputedly stayed in Rental zone over 2012 and 2013.
Pune – The index for the city of Pune