Public sector units (PSUs) are more compliant than their private sector counterparts when it comes to auditor appointments.
According to proxy advisory firm IIAS, the median tenure of auditors in the private sector is about seven years against three years for PSUs. The ministry of corporate affairs (MCA) prescribes an auditor rotation every five years.
IIAS attributes this to the fact that the auditors for most PSUs are appointed in consultation with the Comptroller and Auditor General of India (CAG). In the case of banks, the auditors are appointed in consultation with the Reserve Bank of India (RBI), which ensures frequent rotation about every four years.
Even the remuneration levels for private sector auditors are substantially higher than those appointed by public sector firms. Data for 160 companies for 2011-12 show that 22 PSU companies paid their auditors median fee of R3.3 million, or R0.33 crore. In the private sector (138 companies), the median remuneration was R7.6 million, or R0.76 crore.
"Given this gap, it is probably time for private companies to issue a request for proposal (RFP) for the audit engagement — this will lend credibility to the audit committee," said the IIAS report.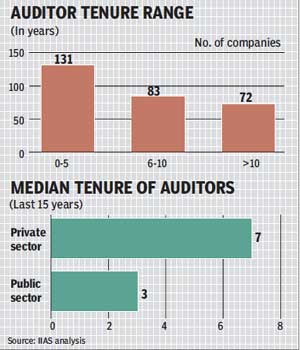 Further, IIAS's analysis of 286 listed companies reveals that 25% have had the same auditor for more than 10 years. This includes 56% of the Sensex companies and 40% of the Nifty companies.
The bigger companies seem to be among the worst offenders in this regard, with firms, such as Reliance Industries, L&T and Hindalco, holding on to their auditors for more than 30 years each.
In fact, only 131 companies, comprising mostly banks, are found to conform to the MCA guidelines. "Some companies tend to stick with their auditor for excessively prolonged periods of time, which puts a question mark on the independence of the auditor and their ability to provide a balanced judgement on the accounts," said the IIAS report.
In India, till now, both the Companies Act and the Listing Agreement have been silent on the issue of auditor rotation.
The only existing provision to this effect is found in the voluntary code issued by the ministry of corporate affairs, which prescribes an auditor rotation every five years. "Unfortunately, since these guidelines are non-binding in nature, most private sector companies disregard them," said IIAS.
"Institutional investors generally view the quality of financial reporting as the most important parameter