BSE Sensex rose more than 2.22 per cent while NSE Nifty jumped 2.66 per cent on Thursday as banking stocks saw their biggest single-day gains in almost 4-1/2 years after the Reserve Bank of India (RBI) raised overseas borrowing limits for lenders in measures unveiled by new Governor Raghuram Rajan.
The NSE bank index surged 9.5 percent, marking its biggest single-day percentage gain since May 18, 2009, tracking a rally in the beleaguered rupee.
Profit-taking was seen in Tata Consultancy Services Ltd (TCS) and Infosys Ltd after both stocks made their record highs on Wednesday. TCS shares fell 3.8 percent, while Infosys lost 3.5 percent and HCL Technologies Ltd ended 1.9 percent lower.
Raghuram Rajan kicked-off his term with a bang on Wednesday, announcing measures to support the embattled rupee and unveiling a raft of steps to liberalise financial markets and the banking sector.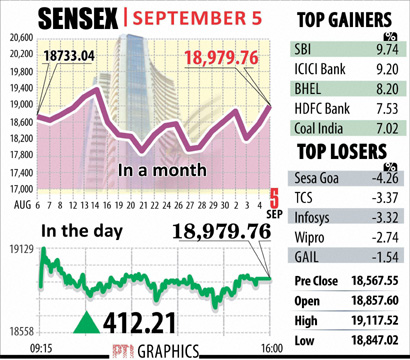 However, amid the euphoria over the new governor's energetic debut, investors warned he cannot by himself repair an economy mired by slowing growth and a record high current account deficit that has helped fuel a drop in the rupee of as much as 20 percent this year.
Analysts say the near-term direction continues to depend on a potential tapering of the Federal Reserve's bond-buying programme, a possible U.S. military strike on Syria and the Reserve Bank of India's policy review on Sept. 20.
"So much rise on a new central bank governor is nice but the ground realities of elections, Fed taper, Syria would continue to dominate the market in the near term," said G. Chokkalingam, managing director and chief investment officer, Centrum Wealth Management.
The benchmark BSE index rose 2.22 percent, or 412.21 points, to end at 18,979.76, marking its second consecutive day of gains.
The broader NSE index ended 2.66 percent, or 144.85 points, up at 5,592.95, after rising as much as 3.3 percent.
ICICI Bank Ltd rose 9.3 percent, while Axis Bank Ltd surged 15.7 percent. Among state-owned