New RBI Governor Raghuram Rajan today came out with a slew of measures, including more trade settlement in Indian rupees to rescue the battered financial markets and hinted at a shift in focus from inflation control, doggedly pursued by his predecessor, to boosting growth.
Shortly after he took over as the 23rd Governor of the the reserve Bank of India (RBI), Raghuram Rajan, 50, addressed the media with a prepared statement in which he laid out a detailed road map for his innings in the short term, which he called a "big initial package."
Raghuram Rajan says RBI governorship not meant to win Facebook 'likes'
He also rescheduled by a few days the date for his much-anticipated first monetary policy statement to September 20.
The new Governor set up a number of committees for revising and strengthening monetary policy framework, financial stability, financial inclusion, NPAs and an outside panel of experts headed by former Governor Bimal Jalan to screen applications for new bank licenses.
With a little help from RBI, Raghuram Rajan elevation, Indian rupee soars
Raghuram Rajan said the new bank licences will be issued around January next year.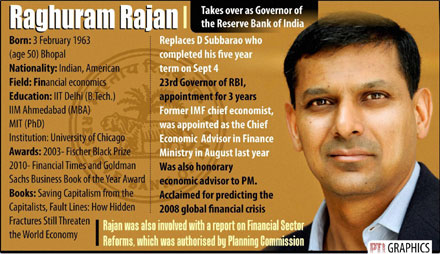 Apparently reflecting a shift in the approach from his predecessor D Subbarao, who had serious differences with the government of late, Raghuram Rajan said the primary role of the bank is monetary stability to sustain confidence in the value of the Indian rupee.
"Ultimately, this means low and stable expectations of inflation, whether that inflation stems from domestic sources or from changes in the value of the currency, from supply constraints or demand pressures.
"...but we have two other important mandates; inclusive growth and development, as well as financial stability," he said.
Asked about Subbarao's focus on targeting inflation, Raghuram Rajan said he would reserve his comments till September 20.
Rajan said the bunch of reforms has been unveiled today to enhance growth.
"I think there are so many low-hanging fruits in the economy that if we only pluck them we can accelerate growth substantially."
The former IMF chief economist and economic advisor to the Finance Ministry said there were some positive developments in the economy which will help to boost growth.
BSE Sensex surges 333 pts on value buying as Indian rupee rebounds, ICICI Bank shares jump
The measures disclosed to support the rupee include liberalisation of the financial market by enhancing the limits for exporters to