Internationally renowned economist Raghuram Rajan on Wednesday took over as the new Governor of the Reserve Bank of India (RBI). In pictures: Raghuram Rajan takes over RBI Governor
Rajan, 50, an economics professor who also served as chief economist at the International Monetary Fund, took charge from D Subbarao.
New RBI Governor Raghuram Rajan: Quotes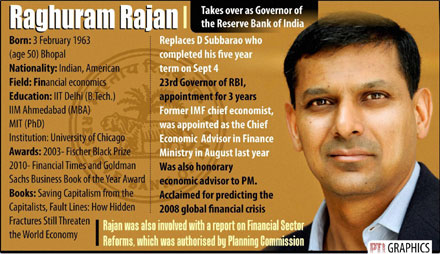 The duo shook hands warmly and hugged after Rajan signed papers taking over as the 23rd Governor of the central bank.
"Ten minutes ago, I handed over charge to Raghuram Rajan," Subbarao said after stepping out of Mint Road. "The country could not have asked for a more capable person to lead the RBI in these most difficult times."
Related: New RBI governor Raghuram Rajan to step into eye of rupee storm
Rajan will have to plunge straight into a fire-fight situation as the country battles a rapid fall in rupee, high inflation, low growth and burgeoning current account deficit (CAD).
With a little help from RBI, Raghuram Rajan elevation, Indian rupee soars
Rajan has already said that he has no magic wand to face the challenge before the country but would deal with them one at a time.
BSE Sensex surges 333 pts on value buying as Indian rupee rebounds, ICICI Bank shares jump
The government, which was at the receiving end of Subbarao's unrelenting focus on inflation control at the cost of low interest rates, would hope that the new incumbent would reverse some of those policies.
"We have enough ideas. It is not just the currency, it is financial inclusion, it is growth. I think there is a lot to do. There are challenges in the economy... These things are not going to be overcome overnight. There is no magic wand. But there are undoubtedly solutions to many of the problems that the RBI can tackle and the job is to go ahead and do it.
"We will do it one step at a time. Make sure that it progresses everyday," he had told reporters on Tuesday on his last day of office at the Finance Ministry.
Rajan, who was appointed as the Chief Economic Advisor in the Finance Ministry in August last year, bring to RBI a vast experience gained at the IMF and during the brief stint in the government.
Known for his frank views, Rajan, who will be the 23rd Governor