EMIs on auto, home and other loans are set to go up after RBI Governor Raghuram Rajan unexpectedly raised the repo rate by 0.25 per cent after a gap of almost two years to keep inflation under check, sending the stock markets into a tizzy.
Contrary to the expectations of the industry and experts, Raghuram Rajan in his maiden policy review opted for a hawkish monetary stance ahead of the festive season instead of shifting the focus to growth promotion by lowering interest rates to generate demand.
Read Full Report: Raghuram Rajan's mid-quarter monetary policy review
Read Full Statement: Raghuram Rajan's mid-quarter monetary policy review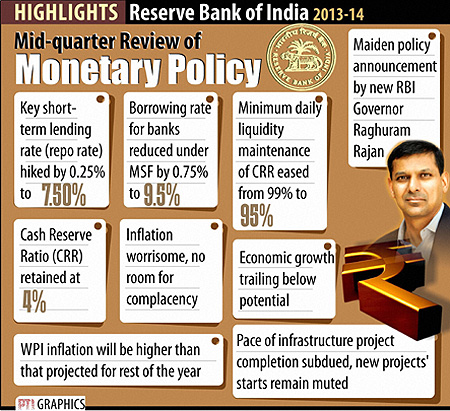 The repo rate, or the short-term lending rate, has been increased by 25 basis points to 7.5 per cent from 7.25 per cent with immediate effect. Other policy rates will be adjusted accordingly. The RBI previously raised the repo rate in October 2011 by 0.25 per cent to 8.5 per cent.
RBI Governor Raghuram Rajan, however, took steps to ease liquidity through a reduction in the marginal standing facility (MSF) rate, at which banks borrow from the central bank, by 0.75 per cent to 9.5 per cent and a lowering of the minimum daily maintenance of the cash reserve ratio (CRR).
After the policy was unveiled, State Bank of India Chairman Pratip Chaudhuri said lending and deposit rates will go up in view of the rise in festive season demand.
Raghuram Rajan, however, did not indicate that banks would raise lending rates, saying the cut in the MSF rate would balance the impact of the repo rate hike.
"I hope that they (banks) will look at their cost of funding...to make a decision and not look at the future and try and anticipate some hypothetical cost," he added.
Following the policy announcement, the benchmark BSE Sensex tanked by as much as 595 points, while the rupee depreciated 69 paise to 62.46 against the dollar.
*Stocks: Top Gainers/Top Losers
Raghuram Rajan said the elevated level of retail inflation is worrisome and leaves no room for complacency, while wholesale price inflation will be higher than initially anticipated.
Retail inflation was at 9.52 per cent last month. Wholesale price inflation rose to a six-month high of 6.1 per cent in August, driven by costlier