Raghuram Rajan's RBI sprang a surprise on the world by turning hawkish during the monetary policy review meet that was hyped up significantly in recent weeks, but ultimately the cbank continued with D Subbarao's much-maligned policies with an interest rate hike - RBI hiked short-term lending (repo) rate by 0.25 per cent to 7.5 per cent.
Raghuram Rajan however, said the hike made Friday in the key policy repo rate cannot be immediately viewed as negative for economic growth.
He added that the repo rate hike affects 0.5 percent of the entire borrowing of the banking system.
A hawkish RBI unexpectedly raised the policy rate as it kept its focus on controlling inflation, which it felt would be above the expected levels in the current fiscal.
Read Full Report: Raghuram Rajan's mid-quarter monetary policy review
Read Full Statement: Raghuram Rajan's mid-quarter monetary policy review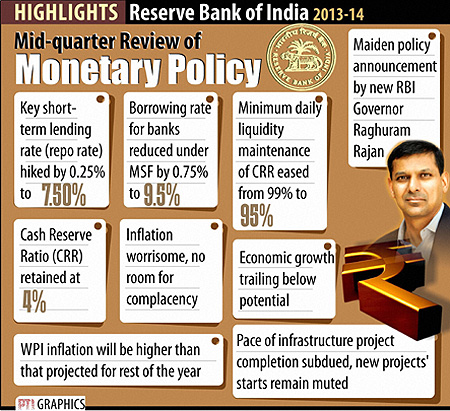 RBI Governor Raghuram Rajan in his maiden policy review, however, eased liquidity through a reduction in the marginal standing facility (MSF) rate, at which banks borrow from the central bank, by 0.75 per cent to 9.5 per cent.
The repo rate or the short term lending rate has been increased by 25 basis points to 7.5 per cent from 7.25 per cent with immediate effect.
The stock markets reacted negatively, with the BSE Sensex tanking by about 500 points while the rupee depreciated 69 paise to 62.46 against the dollar.
*Stocks: Top Gainers/Top Losers
"The need to anchor inflation and inflation expectations has to be set against the fragile state of the industrial sector and urban demand. Keeping all this in view, bringing down inflation to more tolerable levels warrants raising the repo rate by 25 basis points immediately," Raghuram Rajan said in the mid-quarter policy review statement.
Raghuram Rajan kept the cash reserve ratio (CRR), the portion of deposits that banks are required to maintain with the RBI in cash, unchanged at 4 per cent.
At the same time, the RBI reduced the minimum daily maintenance of CRR from 99 per cent of the requirement to 95 per cent effective from September 21, a move aimed at inducing liquidity into the system.
Driven by costlier food items, wholesale price inflation rose to a six-month high of 6.1 per cent in