Congress Vice-President Rahul Gandhi today claimed that his party was a champion of the tribal people and had saved the Niyamgiri hills while accusing the BJD government in Odisha was being run by the mine mafia.
"Congress has all along been with the tribals and worked for their development. My family has special attachment with the tribals," Gandhi claimed this addressing at two public meetings in tribal dominated Koraput and Nabarangpur parliamentary seats.
It was his party, he said, which had fought for tribals of Kalahandi and saved the Niyamgiri Hills and its people. The BJD government in Odisha was planning to hand the sacred hill to a company, Rahul Gandhi said.
Also read: Malaysia Airlines Flight MH370: 20 planes, ships resume hunt west of Perth after more debris spotted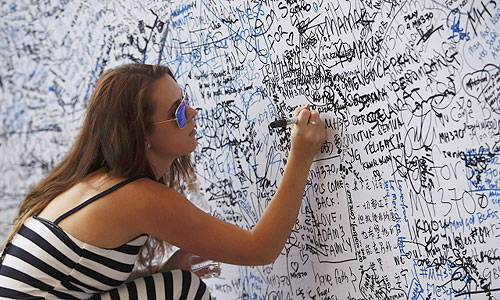 A woman writes on a wall dedicated to the passengers of the missing Malaysia Airlines flight MH370 during the the Malaysian F1 Grand Prix at Sepang outside Kuala Lumpur. (Reuters)
Rahul Gandhi was apparently referring to the government rejecting a proposal by mining company Vedanta Resources Plc's to develop a bauxite mine on the Niyamgiri hills which was considered sacred to tribals. 12 gram sabhas had also rejected the plan for bauxite mining on Niyamgiri.
Alleging that minerals over which the tribal people had rights, were being looted by the mafia, Rahul Gandhi said "The state government is run by the mine mafia and not by leaders. Valuable minerals worth thousands of crore rupees are being looted and state government is aware of it."
While a handful of mafia looted minerals resources of the state and became rich, the poor and the tribal people did not get any benefit, Gandhi said, adding that the Centre had set up a large number of institutes, medical colleges and hospitals for the people.
Gandhi said his family had long-standing bonds with the tribal. "I love to be in the midst of tribal people."
Recalling that his father Rajiv Gandhi had also visited the area and had affection for its people, he said he would continue to fight for the cause of tribes in the 'Delhi Durbar'.
Accusing the BJD government of being anti-tribal, Gandhi said "Though the Centre sends thousands of crores for the welfare of the tribal people, it was not reaching the beneficiaries at the village level. The state government is diverting central funds and taking credit without