More than anything else, a single question hangs over today's rail budget: Will it flag off a course correction for Indian Railways, the troubled monolith?
The railways' surplus from internal resources has shrunk since 2007-08, leaving little for its Investment Funds and making it excessively dependent on budget support and borrowings to fund its capital needs. The economic slowdown eroded its operating ratio — a mark of efficiency — and drained its capital funds. On top of this, former railway minister Mamata Banerjee refused to hike passenger fares, worsening its finances. The entrenched culture of complacency and political skullduggery has not helped either.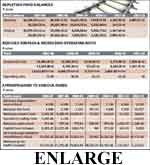 The result: A national transporter which has turned alarmingly unsafe and is losing market share in freight — its last profit centre — as reflected in slowing tonnage growth. The once-mighty railways is now left to milking industries like steel and coal which have few other transport options.
An expert panel led by Sam Pitroda had estimated the cost of modernising the railways at $120 billion. It had proposed a resource pool, combining its internal surplus, private investments, budgetary outlays and borrowings. Banerjee's Vision 2020 pegged R14 lakh crore, roughly the size of the last Union Budget.
If the railways was efficient, freight loading should have grown at least 20% faster than nominal GDP. But it never did, at least in the past decade. Even when Lalu Prasad — credited for the railways' "turnaround" during 2005-2008 – headed the ministry, freight loading growth averaged at just 9%, the rate of real GDP growth. Rail freight traffic grew a dismal 6% in 2011-12 (nominal GDP expanded 16% in the year) and maybe 5% this year (nominal GDP growth around 13%).
On the one hand, Railways overcharges captive consumer industries like steel, coal, iron ore and cement even at the expense of volumes and market share, and on the other, it heavily subsidises passengers, especially those who travel by lower classes. Of Railways' gross traffic receipts, 65% came from freight in 2007-08, when it recorded a healthy operating ratio of 75.9 and the share of freight in gross traffic receipts has only increased to 67% this year.
The operating ratio is the ratio of total receipts to total expenditure including appropriation to Depreciation Reserve Fund meant to replenish existing assets and Pension Fund but excluding Capital and Development Funds.
The decline in operating ratio has depleted Railways funds drastically since 2007-08, when their combined closing balance stood at an encouraging Rs 22,279 crore. One won't be surprised if the Revised Estimate for this year's opening fund balance is close to nil.
The Capital Fund supposed to be used for creating new revenue-generating assets had soared to Rs 11,072 crore in 2007-08 but remained exhausted in 2009-10. Appropriations to this Fund only marginally exceeded withdrawals in subsequent years, and this year's BE shows net allocation of Rs 5,000 crore, a impossible task given the current state of affairs. The operating ratio for this fiscal could be around 90, although 84.9 was projected in the last rail Budget.
The Railways' deplorable financial situation is evident from the fact it spends 78% of its revenue receipts for paying wages, pension and fuel bills. After paying 9% of these receipts to meet repairs and maintenance expenses (which are evidently not done up to a satisfactory level) and paying lease rentals to IRFC, the national transporter is left with virtually nothing.
The Railways has recently been brought under the service tax net and the 'dividend' it pays is nothing but the interest (6.75%) payable on the "capital at charge" (Plan expenditure), which is treated as "loan in perpetuity." Plan expenditure comprises budgetary support (Rs 24,000 crore this year) and market borrowings. There is only limited interest in public private partnership projects firmed up by the Railways. Investor interest has been seen only in port connectivity projects. This means the Railways must increase its borrowing power and for that, bolstering its balance sheet and shifting to accrual-based accounting are prerequisites.
Lalu Prasad had introduced some accounting changes with this purpose but denouncing it, Banerjee said in a"white paper" that Prasad inflated the Railways' cumulative "cash surplus before dividend" (akin to Ebidta or earnings before interest, tax and depreciation and amortisation) in the five years up to 2008-09 by Rs 17,000 crore. Prasad also proposed the disputed concept of "investible surplus" for the Railways. This was a novel financial yardstick for the entity that conventionally reported either surplus or shortfall. Banerjee's criticism notwithstanding, these accounting changes ought to have been seen as the first step towards attracting lender interest in the railway projects.
Railway minister Pawan Kumar Bansal, who recently revised passenger fares across the board after a decade, has sought Rs 38,000 crore, the gross budgetary outlay for railways in 2013-14 as against this year's Rs 24,000 crore. No reiteration is required for Railways' over-dependence on budget support.