Seasonal rainfall deficit narrowed to 21% of a benchmark average until Friday, compared with 24% in the previous week, boosting the sowing of summer crops and raising water reserve levels further, latest official data showed.
However, the pace of the monsoon lost some steam in recent days, as rainfall dropped 9% from the long-period average (LPA) in the week through July 31 after witnessing 24% excess showers in the previous week, according to data from IMD. Importantly, if the monsoon loses pace further, the deficit in the June-September season could be worse than the predicted level of 7% this year, as August usually brings 40% of overall seasonal showers.
However, as showers drenched central and north-western India over the past few days, the planting of summer crops got a boost, narrowing a deficit with last year to 14% as of Friday, compared with 27% until July 25. Water reserve levels, too, rose to 70.93 billion cubic metres, exceeding the normal 10-year average of 62.87 billion cubic metres, but is still down by 25% from a year earlier.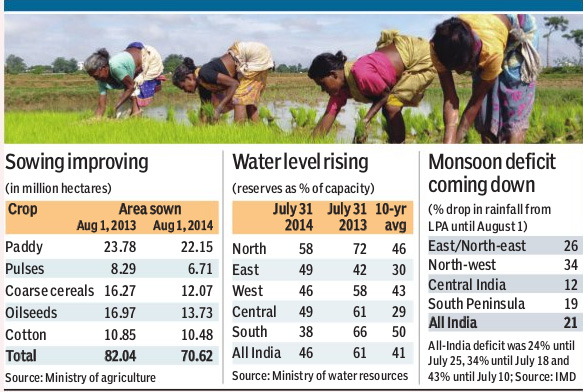 Out of 36 meteorological subdivisions, rainfall has been normal over 17 and deficient over 19 sub-divisions. Regions such as Marathwada (-59%), western UP (-48%), Punjab (-59%), Telangana (-47%), Rayalseema (-21%) and western Rajasthan (-17%) have witnessed huge deficit in rainfall.
"The southwest monsoon has been vigorous over Saurashtra and Kutch, Kerala and south interior Karnataka and active over Konkan, Goa, Madhya Pradesh, Maharashtra and coastal Karnataka," IMD said on Friday. It said rain will occur at most places along the western coast, east and central India over the next week.
Although sowing got a boost following a pick-up in rainfall in the last fortnight, floods occurred in 18 districts of Madhya Pradesh, leading to fears that farm production would suffer if distribution of rainfall isn't good this time.
The deficit in paddy planting had been narrowed to 7% until Friday from 13% in the previous week, according to farm ministry data. However, easing policymakers' worries, the drop in sowing of coarse cereals from a year before has been narrowed to 26%, compared with 43% until last week. Similarly, the fall in planting of pulses and oilseeds has been narrowed to 19% each from 39% and 30%, respectively, until July 25. Normally, summer crops are sown over 105.42 million hectares.
Although the agriculture ministry early last month said kharif production could be