After six straight weeks of poor rains, seasonal showers have gathered pace over the past few days to cover the entire country by Thursday, the India Meteorological Department (IMD) said, much to the relief of an inflation-wary government in what had increasingly seemed like the first drought year since 2009.
The monsoon has entered an active phase with heavy downpour expected over the next 10 days, according to BP Yadav, the head of the National Weather Forecasting Centre at the IMD. This means the rainfall deficit would narrow further from Wednesday's 36%.
Of course, the pan-India coverage is still two days behind schedule.
Easing concerns of wide-scale dry spells, the grain-bowl regions in the northwest, oilseed areas in central India and the cotton-producing western regions are now expected to receive heavy rainfall in the coming days. The pick-up in the monsoon would boost crop sowing, which crashed by almost half until July 11 from a year earlier, apart from improving water reserves levels that witnessed a drop from a 10-year average for the first time this year last week. Already, light to moderate rainfall occurred at many places over Madhya Pradesh and a few places over Vidarbha on Thursday.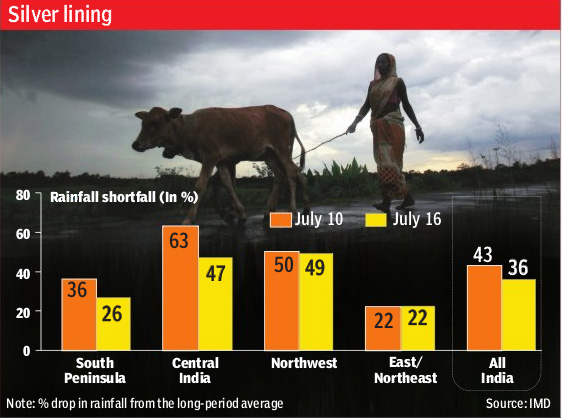 Consequently, areas under oilseeds, pulses and cotton, which had tumbled by a whopping 80%, 69% and 51%, respectively, until July 11 from a year ago, would improve, along with other crops like rice. While the country is self-sufficient in many commodities, it imports more than a half of its edible oil and one-fifth of pulse requirements annually. So a drastic fall in the domestic production of edible oil and pulses further raises the reliance on overseas purchases, increasing the chances of imported inflation.
Last year, monsoon rains covered the country almost a month ahead of the scheduled date, helping farmers sow early, while plentiful showers and good geographical spread ensured a record harvest of over 264 million tonnes of grains and impressive farm GDP growth of 4.7%. In contrast, in the 2009-10 fiscal, which witnessed the worst drought in 37 years, grain production shrank by 6%, farm sector growth hit a paltry 0.8%, compared with the overall economic growth of 8.6%, and food inflation scaled as high as 15.27%.
Although the first advance estimate of foodgrain production this year will be available only by September factoring in the sowing area, it is feared that the poor