Lending rates are set to fall after the Reserve Bank of India (RBI) on Tuesday trimmed both the repo rate and the cash reserve ratio (CRR) by 25 basis points each to 7.75% and 4%, respectively. The central bank last cut the policy rate by 50 basis points in April 2012 and has injected R1 lakh crore into the system since mid-September through a combination of open market operations and CRR cuts.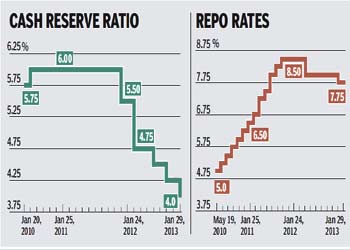 Bankers believe there's room to ease loan rates with R18,000 crore being freed up as a result of the latest cut in the CRR. "There will be monetary transmission because our costs will come down," Aditya Puri, CEO and MD, HDFC Bank, observed at a press conference, while State Bank of India (SBI) chairman Pratip Chaudhuri said that the bank's asset-liability committee will meet on Wednesday to decide on a rate cut. The good news for small savers is that they will continue to earn what they do now on fixed deposits because banks can't afford to cut interest rates on these instruments.
Concerns on slowing growth, well below trend, together with the government's roadmap on fiscal consolidation convinced the central bank to opt for a rate cut, RBI governor D Subbarao said at a press conference. The central bank now expects the economy to grow at just 5.5% in 2012-13 compared with 5.8% earlier. "One of the main considerations for the rate cut was that growth has decelerated and consumption demand, in particular, has slowed," the governor said, adding that lower interest costs and, therefore, lower working capital costs would help push up capacity utilisation currently at levels of 73-74%. "Economic activity has slowed, trailing well below its potential and opening up a negative output gap. What the economy needs most of all and most urgently is new investment," Subbarao said.
As for further cuts in the policy rate, the governor made it clear this would depend on the inflation trajectory and the size of the current account deficit (CAD. Inflation, he said, would need to fall more than currently anticipated while the CAD would need to narrow significantly for any further monetary easing. There would be "limited space for easing", he said, if inflation and the CAD came in on expected lines though he refrained from defining an acceptable level for the latter. Together with the quality of the widening CAD — which came in