Kolkata-based United Bank of India, which saw gross NPA levels of 10.82% in the December quarter, must reduce expenses and work hard to improve its asset quality because the RBI has no magic wand to help it, RBI deputy governor Kamalesh Chandra Chakrabarty said Thursday.
On RBI initiatives to revive the bank, Chakrabarty said, "It is the bank which has to work to improve their asset quality, reduce expenses and mobilise more business."
Also read: RBI Dy Governor K C Chakrabarty resigns abruptly before end of term
"We are asking them to do "good business" and avoid "bad business", he said, adding that if a bank hides its NPAs, it will not be able to recover them.
Last month, United Bank had decided to suspend its loan facilities for an indefinite period, owing to the high level of stressed assets and diminished capital adequacy. However, as there were reports of the government planning to infuse Rs 1,000 crore into the bank, it resumed lending operations a few days later.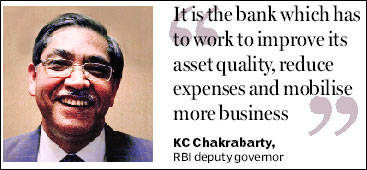 The RBI, in December 2013, had restrained United Bank from advancing credit of more than R10 crore to a single borrower and also restricted it from restructuring stressed assets, after conducting a forensic audit in November.

The bank reported a net loss of more than Rs 1,200 crore in December quarter. The ratio of gross non-performing assets (NPAs) to gross advances during the third quarter of the current financial year jumped to 10.82% at R8,545.50 crore. Moreover, the capital adequacy ratio also fell to a little over 9%. As per Basel-III norms, banks must maintain a total capital ratio (tier-1 capital and tier-2 capital) of 9%.

The public sector lender had recently expressed confidence in upgrading and reducing at least Rs 2,000 crore of non-performing assets through an intensive recovery drive to improve its working results in the March quarter of fiscal 2014.

Also check:

* Check car prices: All Models

* Comparison: Datsun GO vs Maruti Alto K10