Irda's latest report on sub-brokers aims not only at increasing the presence of insurance in rural areas, but also curbing mis-selling
To curb mis-selling and increase penetration of insurance in semi-urban and rural areas, the Insurance Regulatory and Development Authority (Irda) has come out with a report on insurance sub-broking. Among other things, it has recommended 50 hours of training, covering topics like risk, perils and hazards, classification of risks, indemnity, classification of insurance and policy terms and conditions. The National Insurance Academy will be the examination body for sub-brokers and the examination will be held online.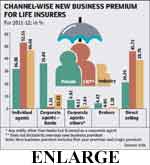 For practical training purpose, a sub-broker will have to go through 20 hours of internal training under the broker to whom he has registered an application to function as such. The broker will bear the responsibility of certification and confirmation, apart from training the sub-broker on functioning of internal systems.
The report says that brokers with a certain degree of consistency and scale of revenues, geographical presence and Irda-licensed broking workforce can appoint sub-brokers. If the sub-broker places premium of more than R10 crore for two financial years, he has to upgrade his status as a broker and cannot continue as a sub-broker. The sub-broker can place business worth R1 lakh per policy and this threshold limit applies for both life and non-life businesses. The report says that the available infrastructure of Common Services Centres in the rural areas may be utilised for procuring insurance through subbroking model. Also, the licensing system should be made simple and the main broker, after conducting necessary due diligence, will forward the application for sub-broking to the Irda and the authority will register them as sub-broker.
The report was prepared by a committee constituted by Irda last year, which was headed by P C James, professor of National Insurance Academy. The committee has recommended that sub-brokers maybe allowed to sell micro-insurance and combo products, which will cater to the needs of rural people. If the sub-broker is terminated for any reason, the main broker will be responsible for servicing the policies sold by the sub-broker
The intermediaries who represent insurers are tied agents, corporate agents, banks and micro insurance agents. Since 2010 the insurance regulator has notified distance marketing guidelines, web aggregators' guidelines and modified referral guidelines, which aim to help insurers increase the spread.
The regulator has underlined that no significant