Imagine this. You are taking a walkthrough of your dream home. You can see how each room would look like, down to the paint on the walls, bathroom fixtures, and even furniture. This is no sample flat being shown by the developer. This is happening in 3-D, on your computer screen.
"It is almost like playing a game, except that instead of scoring points, you are designing your home," says Sanju Thomas, founder of Ghar360.com, a Bangalore-based start-up that is focusing on the architecture and interior design market.
The unique technology that Ghar360.com has developed is to seamlessly convert a blueprint made using software such as AutoCAD into a three-dimensional visual, which eliminates the complex and expensive process of creating three-dimensional walkthroughs. Once the visual is ready, a user can try out the bells and whistles — décor, paints, fixtures.
"Interior design is a $1 billion market in this country, and there are around 8 lakh products available in the home segment," says Thomas who is in talks with angel investors to close a round of funding before taking the website online for general users who would be able to try their hand at designing their home. He plans to tap established brands to offer their products on the platform to enable a prospective buyer experience them through what is called 'augmented reality' in technology parlance.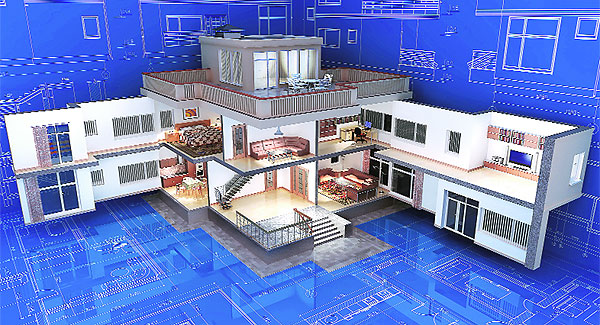 The brick and mortar real estate industry has come a long way in its adoption of information technology. Be it architectural design, structural engineering, project management, there is IT involved at every step.
"Real estate development is an information intensive process. In real estate development we integrate diverse and specialised intellectual resources and expertise; and thrive on the creation of project delivery networks based on alliances between participants from contractually-bound multiple organisations. Timely information availability and sharing can significantly improve operational efficiencies leading to reduction in project time and cost overruns that we currently face," says Anil Sawhney, associate dean and director, School of Construction, RICS School of Built Environment, Amity University.
Value and Budget Housing Corporation, a leading player in the organised affordable housing segment has used IT solutions to keep customers informed on the progress of a project. "Live feeds on sites which can be seen by the customers when he visits the VBHC website," says Vivek Singh, regional business head- NCR, VBHC. "IT is now being used in a