Home buyers looking to settle in their dream home this year, have to wait longer. Studies show that for the year 2013, developers on an average would be able to deliver only a third or even less of the units they had committed for this year.
The performance of the National Capital Region has been the worst across major cities. Data from PropEquity, a real estate research firm says that only 21,371 residential units have been delivered until July, out of a promised 91,558 units, a rate of 23 per cent.
"In terms of average delay across India, more than 25 per cent of the committed supply has not been able to hit the market as per the schedule," says Santhosh Kumar, CEO-Operations, Jones Lang LaSalle India. Markets in south have fared better in comparison to markets in north, says Kumar.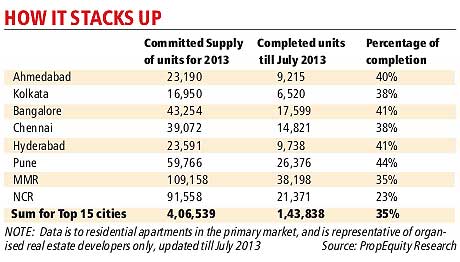 He adds that for Gurgaon, that ratio is one-third, while for Noida region the ratio has fallen to a dismal 20 per cent. "Cities in the south and west such as Pune and Mumbai have had much better performance in terms of delivery committed supply of 2013. Pune and Mumbai could so far score deliver more than 40 per cent of committed supply of 2013," says Kumar.
Assuming the average time period of construction at 3-4 years, the projects should have been launched during the period 2009-2010.
FACTORS WITHIN CONTROL, AND WITHOUT
Most buyers do budget for delays of a few months for there are genuine problems that a developer cannot control such as supply of critical raw material such as cement. "There are many factors are responsible for these delays. At the one end are factors that are created by developers and at the other end are factors outside their control," says Venkatesh Panchapagesan, head of the Century Real Estate Initiative at the Indian Institute of Management, Bangalore.
He identifies four factors created by the developers: One, shortage of capital, as capital for construction is tightening since banks no longer lend to this sector freely. Private equity firms are worried about currency risk and have not been able to exit their legacy investments profitably, and schemes such as 80:20 that allowed developers to borrow using customer's credit has also been effectively banned by the RBI.
The second factor is over-leveraging. "Many developers had borrowed a lot in the past to buy land banks. Now