Developers have been quick to catch the changing market sentiment that is looking positive after several quarters of pessimism. While home buyers are still showing caution and staying away from the enquiry counters, developers have found another route to get the unsold inventory absorbed.
The changing outlook has seen the entry of private equity (PE) investors who are looking for big-ticket purchases and quite a few have lapped up the entire lot of unsold units in several projects. The advantage for the investor is that he gets a handsome discount from the developer, and then aims for good capital gains over the medium- to long-term. The developer also benefits as he has found an opportunity to liquidate the asset that generated little return for him and can focus on fresh investments.
PE funds back
PE funding had dried out over the last few years on account of weak economic activity, poor shape of the real estate industry and slowdown in the end user demand. However, since the beginning of 2014, there has been renewed interest from this segment of investors.
The primary factor driving PE investments is the expectation that the economic environment is set to improve, which would result in a rise in property prices.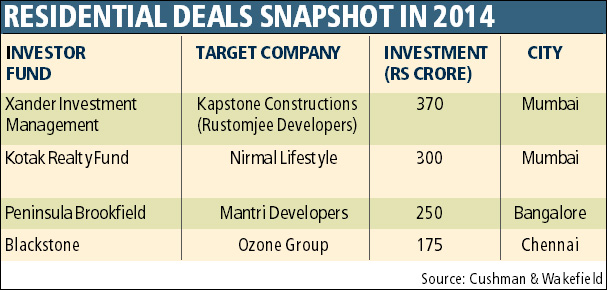 A recent report by Cushman & Wakefield (C&W), a global real estate consultancy, showed that in the first quarter of calendar 2014 the private equity investment rose by 2.5 times over that in same quarter last year. The investment figure for the quarter ended March 2014 stood at 2,800 crore and was almost 30 per cent higher than that in the previous quarter ended December 2013.
Industry sources say that the activity witnessed in the first quarter of the calendar year is also continuing even in the second quarter and the pipeline of such investment looks strong both in the commercial and residential space. While in the residential space the investors are looking for a good bargain to benefit from capital appreciation in future, in the commercial space they are looking to buy pre-leased property.
"PE funds buying into residential property are getting discounts of 20-30 per cent from the developers and therefore are investing for capital gains to be had in future. In the commercial space they are not looking at empty space as there is leasing risk so they are targeting pre-leased property where they get both annual return