A mixed bag: Weak margin performance took the sheen off the solid revenue growth in the third quarter for GlaxoSmithkline Consumer Healthcare Ltd

. We do find the company's performance (revenue, Ebitda and PAT growth of 18%, 16% and 15% y-o-y, respectively) commendable in the backdrop of a challenging environment for the industry. GSK continues to be one of our preferred franchises to own in the staples space. Rich valuations keep us cautious though. We upgrade the stock to Reduce (from Sell) with a revised TP (target price) of R4,200 (from R4,100), noting limited downside.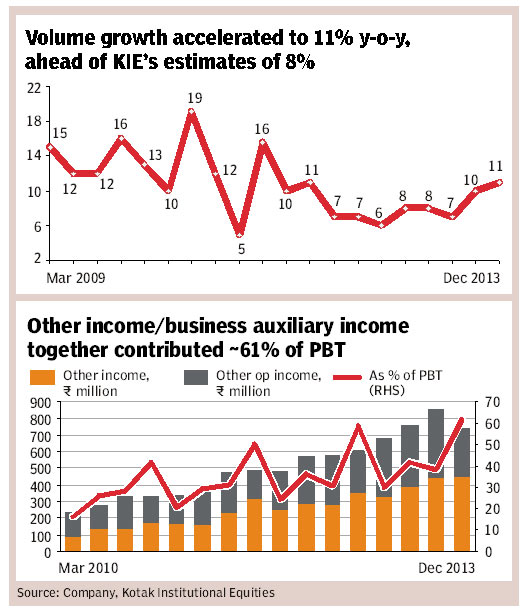 Dec 2013 quarter earnings – revenue growth beats expectations but Ebitda/PAT missed: GSK delivered strong and ahead-of-expectations revenue growth but missed our expectations on Ebitda (earnings before interest taxes depreciation and ammortisation) and PAT. Consolidated revenues came in at R8.4 bn, +18% year-on-year and 3% ahead of our expectations. Revenue beat was volume-led—volume growth accelerated to 11% from the 7-8% levels the company has been reporting for the past eight quarters. We find the reported volume growth commendable in the backdrop of challenging demand environment, especially in the urban markets where GSK's products have higher salience.
We believe the company benefitted from—(i) market share gains, and (ii) rural distribution push; R5 SKU (stock keeping unit), especially launched for targeting the rural and suburban markets is perhaps doing fairly well. Ebitda and PAT, however, disappointed as input cost inflation impacted gross margins. Ebitda for the quarter was R884m, +16% y-o-y and 10% lower than our expectations. Ebitda margin for the quarter was 10.5%, down 30 bps y-o-y and 150 bps lower than our expectations. Margin disappointment was led by lower-than-expected gross margins on account of (i) sustained high inflation on milk and milk powders, (ii) lower price contribution to growth—pricing element of growth (in the domestic business) dipped to a multi-quarter low 4%, and (iii) growth deceleration in high-margin distribution income from GSK-AP. PAT for the quarter was R798m, +15% y-o-y and 9% lower than our expectations. The company delivered an EPS (earnings per share) of R119.6 in CY2013, a growth of 15% y-o-y. We note that the company has moved its fiscal year to March year-end from December currently.
Tweak estimates: We upgrade GSK to Reduce, noting the limited (3.5%) downside to our revised target price. Our revised FY2014e (March year-ending—
5 months), FY2015e and FY2016e EPS estimates stand at