The regulatory environment in India is seen as more stifling than stimulating for entrepreneurs. This is mirrored in India's poor standing in the World Bank Doing Business 2012 ranking, where it's placed at 132, out of 183 countries. On the Starting a Business parameter, the ranking is way behind at 166.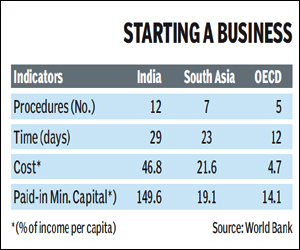 The situation can change only when the regulatory climate turns decidedly conducive to business. Entrepreneurship is fostered in an environment that enables the entrepreneur to create, run, manage and close a business without hassles, while the regulatory system guarantees him easy compliance, rule of law and protection of property—physical and intellectual.
The UN Conference on Trade and Development (Unctad), which recently brought out its Entrepreneurship Policy Framework and Implementation Guidance, says the regulatory environment should encourage people to set up own business, try new business ideas and take on calculated risks, while keeping administrative burdens to the bare minimum to support public policy and sustainable development objectives.
Imposing a heavy regulatory burden on the private sector harms entrepreneurship development. The Doing Business rankings show that some of the most entrepreneurial and competitive economies (such as Singapore, New Zealand and Canada) impose the least administrative requirements on start-ups. Countries that impose more onerous administrative requirements on firms and where the cost of registration is higher typically show much lower rates of entrepreneurial activity, Unctad points out.
Excessive administrative barriers or lack of transparency about the requirements entrepreneurs have to fulfil can have significant adverse effects on the society. When starting a business is discouraged, the business models of incumbent firms are not regularly challenged, enabling inefficient producers to maintain their market position. The economy's overall productivity increases more slowly than it would in an economy that fosters easier firm entry and competition.
The basic step in establishing a business friendly regulatory environment is to understand how far existing rules and procedures hold back entrepreneurial activity. This implies distinguishing between regulations that are essential for the functioning of businesses; those that are essential but can be simplified or otherwise managed more efficiently; and those that produce more costs than benefits and so should be abolished.
Making this distinction can best be achieved in three steps, says the guideline. The first step is benchmarking the national business climate against other countries. But local realities have to be factored in here. Similarly, national entrepreneurship strategies aimed at development in specific target areas, or for specific