With the Supreme Court recessing for its summer break, and the bench hearing the Prashant Bhushan PIL against the gas price hike likely to be reconstituted — one of the judges is to retire on July 1 — a combative Reliance Industries Limited (RIL) on Saturday filed for its second arbitration against the government in the KG-D6 block matter.
The joint statement from RIL and its partners BP Plc and Niko Resources Plc also indicated that pending resolution of the issue, it was halting any further exploration and development work at KG-D6. "The continuing delay on the part of the government of India in notifying the price in accordance with the approved formula for the gas to be sold has left the parties with no other option but to pursue this course of action," the joint statement said. "Without this clarity, the parties are unable to sanction planned investments of close to $4 billion this year."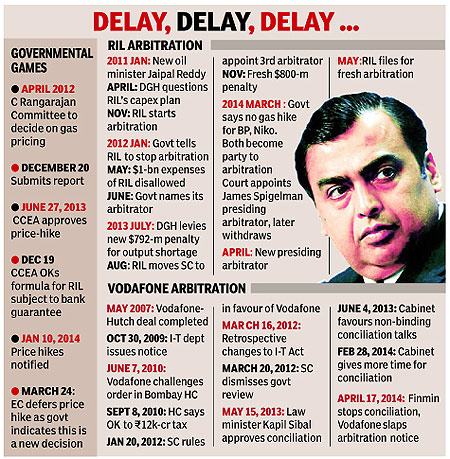 Along with the fresh Vodafone arbitration notice last month, this is the government's third arbitration notice in as many weeks (see Delay, delay, delay …), taking government-industry relations to a new low — it has taken RIL 29 months to just get the arbitrators appointed in its first arbitration.
At stake is a potential $8-10 billion investment by RIL and its partners BP and Niko over the next few years — of this, $4 billion was to be invested in the current fiscal, but each day of delay means the consortium cannot go ahead with its plans.
Although the gas price hike, based on the Rangarajan formula, can be notified once the Election Commission's code of conduct comes to an end and the new government is sworn in, RIL is taking no chances. As the firm's lawyer Harish Salve said on Saturday, the company is in litigation mode. The government had notified the price hike well before the EC's model code of conduct came into play but the oil ministry presented the matter to the EC as a new decision — the EC, not surprisingly, put the gas hike on hold.
Last week, the government returned the bank guarantee of Rs 509.55 crore that RIL had submitted to be eligible to get a higher price for natural gas. The petroleum and natural gas ministry returned it, saying the new rate hasn't been announced. The surety, given on