Oil-to-yarn and retail conglomerate Reliance Industries posted a 1.3% quarter-on-quarter rise in consolidated net profit for the first quarter of fiscal 2015 to R5,957 crore. On a year-on-year basis, RIL's net profit rose 13.7%.
This is the first time that RIL has decided to publish its consolidated financial performance, which includes the performance of its retail business. RIL's chief financial officer Alok Agarwal said in future, RIL will publish its consolidated financial numbers every quarter. Earlier, the conglomerate published its standalone results that took into account the refining, petrochemicals and upstream oil & gas businesses.
The Mukesh Ambani-led conglomerate's consolidated revenues for the quarter ended June 30 stood at Rs 1.07 lakh crore, up 1.6% sequentially and 7.2% over the year earlier.
The growth in consolidated net profit that RIL has showcased in the June quarter was largely due to its retail business, which reported an operating profit of Rs 81 crore, up 237.5% over the January-March period.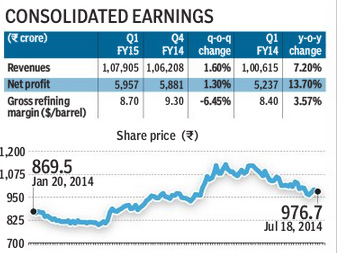 On a standalone basis, RIL's net profit remained flat quarter-on-quarter at Rs 5,649 crore and rose 5.55% over the year earlier. The standalone numbers reported by RIL exceeded analysts' expectations, who had estimated net profit to be lower quarter-on-quarter due to a weak refining margin.
The Bloomberg consensus of RIL's earnings estimates for the first quarter of FY15 had pegged the company's estimated net profit at Rs 5,434 crore, down 3.6% quarter-on-quarter and up by a marginal 1.5% over the corresponding period a year ago. The consensus had estimated RIL's revenues at Rs 98,386 crore, up 3.35% over the January-March quarter, and 12.2% higher year-on-year.
The company's standalone revenues came in at Rs 96,351 crore, 1.2% higher sequentially and around 10% higher over the year earlier.
"RIL has achieved a record level of consolidated net profit this quarter," RIL chairman Mukesh Ambani said in a statement. "This was achieved despite weak regional refining margins and a planned turnaround in the refinery."
RIL's standalone financials could have appeared worse, but a change in rules for accounting depreciation and lower interest costs helped the company maintain its bottomline in the last quarter.
"Due to a change in the guidelines for accounting depreciation in accordance with the new Companies Act, which aligns it with the useful economic life of an asset, depreciation cost has been lower by around Rs 200 crore in the current