A well-defined strategy to first develop India as its export hub and later focus on launches in the domestic market seems to have helped the Renault-Nissan car alliance beat most rivals among the early entrants like Ford, General Motors and Skoda, by posting maiden profits (FY13) in India within a very short period.
Renault India's latest offering — the Duster SUV — is not only registering strong volumes but has also given birth to a new segment of compact SUVs.
Nissan Motor India recorded a Rs 312-crore profit in FY13, according to the filing with the Registrar of Companies (RoC), while alliance partner Renault India posted a Rs 15-crore net profit during the same period. While the former has wiped out its accumulated losses of Rs 467 crore by raising short-term funds, the latter continues to have accumulated losses of Rs 345.57 crore.
Sunil Rekhi, CFO for both Renault and Nissan's India units, told FE: "As a combination of the two companies, we have turned around. Exports have been a bridge till you cross the muddy waters and get volumes in the local market. For Renault, the Duster has done very well; now for Nissan, we are taking positive steps in the domestic market with the launch of Datsun cars from next year. We expect strong growth in domestic volumes going forward."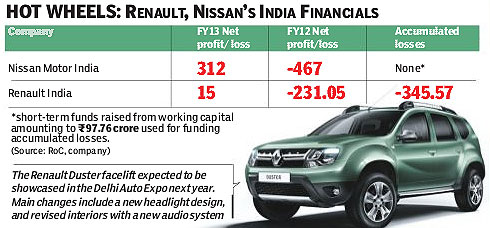 The two companies mentioned above focus on marketing the individual brands and investments for development of new products and tooling at the common plant, while a third company Renault-Nissan Automotive India, invests in and manages production at the Chennai plant which started in 2010. This third company is yet to report a profit because of high initial investments. Together, the three group companies have invested over R4,500 crore for around 4-lakh-unit annual capacity at the plant and the alliance is expected to take its total investment to $5 billion in the next five years.
The break-even comes at a time when India's 27-lakh passenger vehicle (PV) market is in the midst of an over two-year-long slowdown. Sales between April and October FY14 are down 4.62% at 14.40 lakh units, after posting modest growth of 2.15% in FY13 and 4.66% in FY12. In comparison with Nissan-Renault's success, most foreign carmakers in India like Ford, General Motors, Honda and Skoda posted losses in FY12 and FY13.
In fact, the total accumulated losses of global